It is no secret that today even the middle class cars are equipped with a minimum of 5-7 electronic systems, CAN communication buses, LIN. Therefore, the presence of motor the scanner is not a feature of the service center, and an objective necessity. Many basic service procedures, such as replacing brake pads, replacement of oil in the engine and automatic transmission, and so on. E., Can no longer be performed without connecting the diagnostic system. Thus, the scan tool has become essential not only diagnosticians and Car electronics, but also a car mechanic. Everybody needs a scan tool, which will allow to carry out the daily tasks of the standard service center, not overpaying for unneeded highly specialized functions. To solve these problems the company Autel produced new diagnostic system MaxiSYS MS906 and MaxiSYS MS906BT.
Autel is not the first year is a leader in the segment-level scanners with TOP flagship MaxiSys Pro line. This is the first multi-brand diagnostic scanner dealer level. The main features of the device – Support dealer functions (coding, adaptation, initialization) and, of course, exclusive ECU programming function.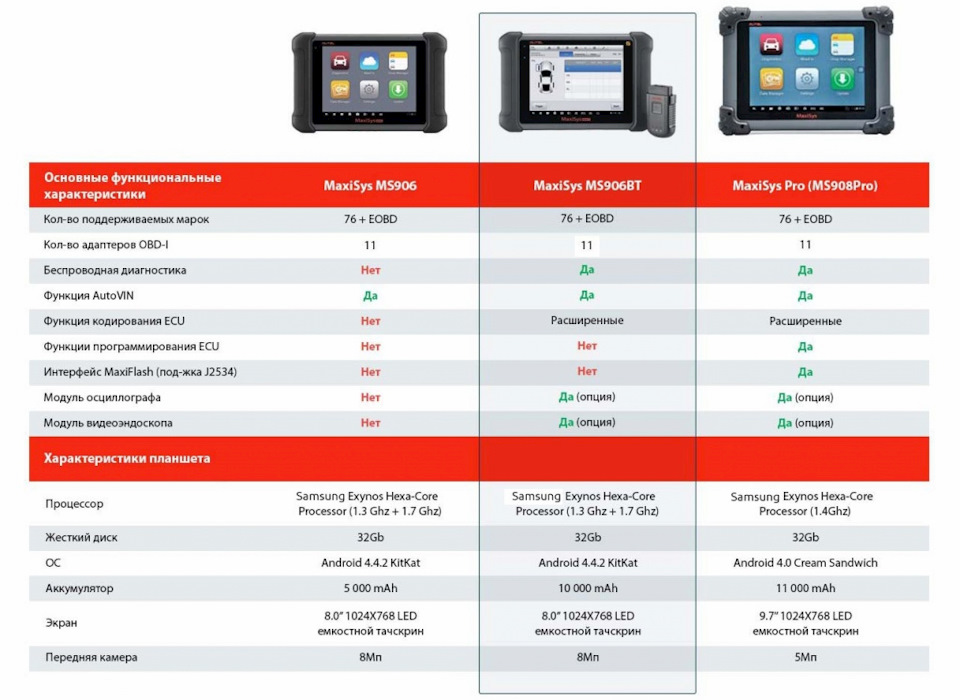 It MaxiSYS Pro has become the powerful functional platform on which are built MS906 and MS906BT. The company Autel excluded from the new system programming functions, which significantly reduce the cost of the device and make it accessible for every car workshop.
Autel Scan Tool MaxiSys MS906BT is the latest addition to the MaxiSys product line of advanced wireless diagnostic devices. The device is based on the Android operating system featured with the best possible coverage of OE-level diagnostics and ECU coding capability. Utilizing the powerful Exynos 5260 6-core processor (1.3 GHz quad-core ARM Cortex-A7 + 1.7 GHz dual-core ARM Cortex-A15), an 8" capacitive HD touch screen, and long-distance wireless communication, the MaxiSys MS906BT efficiently provides comprehensive vehicle diagnostics and analysis.