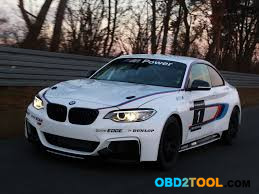 Days ago, I used the new ENET cable to manage to do some coding on BMW F22 M235i. Then, i share my coding adventure on forums. And here is one of useful feedback. Put them here and it works.
My post:
"Finally had enough time off work to get all the software installed onto my laptop (over 7GB of files). Once installed I took my new E-SYS cable and connected to the OBD II port in the car. Note, if you haven't found this connection yet it took me a while. My old E92 had a little plastic door right above the hood release, not on the F22. Everything being black I had to take a flashlight up under the driver side before I found it. No cover on it, just sits along the side kick panel above and back from the trunk release button.
Fired up the car (you can put your car on battery tender instead) and connected my new cable to the port and into the laptop. Fired up my new software (without the needed token files) and hit "connect" and prayed it would work. After two or so minutes of files loading and the bmw diagnostic scanner connection establishing communication with the car I had an active connection
Not having all the software fully licensed for use yet I did some simple looking around and check to see if my car was supported with the default F20 file set. I was able to the read my cars VIN and populate all the internal settings in the software configuration. Really cool! I now have access to all the internal data settings stored in my ECU. Save a copy of the original settings (will back them up to be safe) and shutdown. Once i get the token files I will begin finding and coding the different settings.
Pretty exciting stuff that I get to be my normal computer geek self and play with my favorite toy at the same time. Will keep this thread updated with my experience as I proceed."
Useful feedback:
"You don't need to be a computer software developer to install and use the software, but that won't hurt either. The reason you are finding it difficult to find all the required information and setup in one location, as best I can tell, is that a lot of what is being done could be consider in violation of warranty and/or software rights. I think the people who have ventured into this are vary worried about being exposed to the powers to be, or worst held in some legal contempt for helping others change computer settings in someone else's vehicle.
I had to make contact with no less than 3 individuals who have experience with the process and access to the software before I could even get it started. Now that I made it pass the initial issues I feel pretty good about performing these changes to my own car. I guess we will see shortly as I now have my token to perform