The Autel Maxisys Elite Diagnostic Platform is the next generation of smart solution for specialized automotive diagnosis. Featuring the NVIDIA's Tegra ? 4-PLUS-1 quad-core 1.90GHz processor, a 9.7‖ Retina display with a super sensitive capacitive screen, combined with an optimized array of powerful applications, and the best possible coverage of OE-level diagnostics, the MaxiSys Elite performs every job from comprehensive vehicle diagnostics and analysis, to advanced ECU programming quickly and efficiently.
There are 3 main components to the MaxiSys Elite system:
1.  Autel Scanner MaxiSys Display Tablet – the central processor and monitor for the system
2.  Vehicle Communication Interface (VCI) – the J2534 ECU Programming Device for accessing vehicle data with programming capabilities
3.  Docking Station – provides optimum visibility and convenient charging This manual describes the construction and operation of the devices and how they work together to deliver diagnostic solutions.
MaxiSys Display Tablet
1.Functional Description
1.  9.7‖ Retina display with capacitive touch screen
2.  Built-in Microphone
3.  LED Indicator Light – indicates battery level & charging or system status General Introduction  MaxiSys Display Tablet
4.  Front Camera
5.  Ambient Light Sensor – detects ambient brightness The LED Indicator Light displays differently in response to the 4 status below:
A.  Charged – indicated by steady green light
B.  Charging – indicated by steady yellow light
C.  Low Battery – indicated by steady red light
D.  Standby – indicated by flashing blue light

6.  USB Port – for Ethernet adapter and/or VCI connection
7.  HDMI Port
8.  Mini USB OTG Port
9.  Head Phone Jack
10. DC Power Supply Input Port
11. Lock/Power Button – turns the device on & off with long press, or locks the screen with short press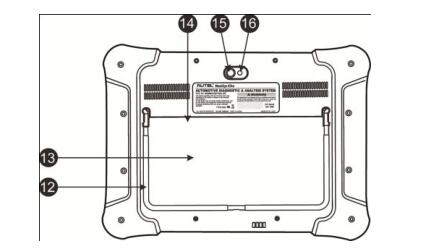 12. Collapsible Stand – extends from the back to allow hands-free viewing of the display tablet at a 30-degree angle
13. Removable Battery General Introduction  MaxiSys Display Tablet
14. Mini SD Slot – optional module
15. Camera Lens
16. Camera Flash/Torch
Power Sources
The Maxisys Elite can receive power from any of the following sources:
1. Rechargeable Battery Pack
2. AC/DC Power Supply – using power adapter or docking station
3. Vehicle Power
Rechargeable Battery Pack
The display tablet can be powered with the rechargeable battery, which if fully charged can provide sufficient power for about 4 hours of continuous operation.
AC/DC Power Supply
The display tablet can be powered from a wall socket using the AC/DC power adapter or the docking station. The AC/DC power supply also charges the battery pack.
Vehicle Power
The display tablet can be powered from the www.obd2tool.com lighter or other suitable power port on the test vehicle through a direct cable connection. The vehicle power cable connects to the DC power supply port on the top side of the display unit.