Like a kid in a candy store, I had to test it out. Being that the Autel MS906 is able to do everything the dealer-specific scanners can, I decided to check out a customer's engine light on their Ford Escape.
Like any professional grade scan tool, you have to connect the cable just like a computer cable with those little screws before you can use it. But once it was connected, I plugged the scan tool in.
Nothing happened!!
Unlike most OBD2 scan tools, you have to power up the MS906 on your own.
I pressed the button and the screen lit up. It was only a few seconds until the main screen displayed. And it really didn't take long at all to figure out how to check the code.
I scrolled through to the Ford button, pressed it, and pressed the "EOBD" or engine light icon. It literally walks you through the process to read the codes. And I found out the Escape needed an upstream oxygen sensor.
Out of curiosity, while I was checking the scanner out, I looked at the MaxiFix tab and was astonished to see that there was diagnostic and repair information for virtually every make and model out there.
Just because I was curious, I looked up the upstream oxygen sensor procedure for my customer's Ford Escape, and it looks to be correct.
Definitely, this information will come in handy.
More Tool Than I Expected
It's both a good thing and a bad thing, but there is way more to the Autel MS906 thank I expected.
While there are intuitive functions, you can miss out on so much if you don't spend a couple of hours reading over the manual. That in itself is a problem – the owner's manual is 104 pages long!
I don't know a single tech that's going to take the time to learn the tool that well.
You can use it as a shop manager as well. But that's something every shop owner already has, and one you won't be switching just because you got a new scan tool.
Another thing is your unlikely to use most of the adapters that come with it in the case. It's just needless. They should probably sell those separately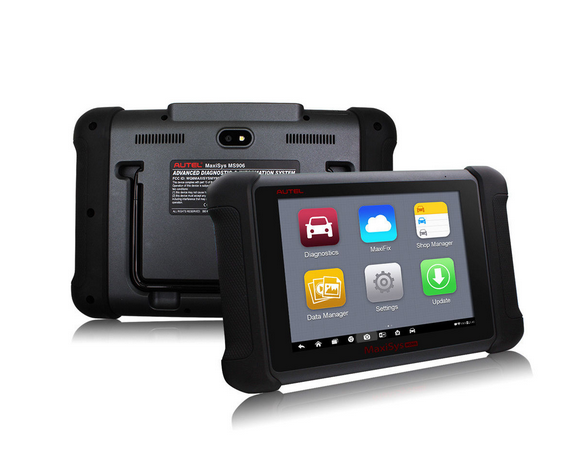 The Autel MaxiSys MS906 has so many features that some are bound to be extremely useful
Features
The Autel MaxiSys MS906 has so many features that some are bound to be extremely useful.
It has Smart AutoVIN which will detect the VIN number from your car's ECU most of the time. If it can't recognize it, you can manually enter it easily.
Functionality
It can perform functions most shop owners farm out to the dealership like key programming and ECU programming. And it's even capable of programming tire pressure monitor sensors if you buy the adapter with Autel OBD2 Scanner.
Like I said before, it's intuitive for basic functions like checking codes and has a massive 8-inch color touchscreen.
You'll need to connect it to Wifi. But once you do you have access to online resources, remote support, and updates. Updates come free for a year for the MS906 according to the website but I haven't tried it yet.
I've used the Snap-On Ultra Modis scan tool, another one from MAC Tools, a few of the smaller handheld scan tools, and this one blows them away. Since my first use, my staff and I have put it to the test with dozens of vehicles and haven't encountered a problem yet.
It can sometimes feel a little bulky in the vehicle but the built-in kickstand hangs nicely on the top of the steering wheel to keep it more accessible.
It supposedly works on as many as 80 different makes, most of which I'll never see so it's hard to say if there could be problems for other users.
It's also great that it uses the Android platform, so a huge segment of users will feel right at home with it.