I am more than impressed with what this little tool can do for the price. I was able to do variant coding on a W212 Mercedes, Airmatic calibration and it still had a lot of other useful features( it was able to access all of the 46 modules installed on the Merc).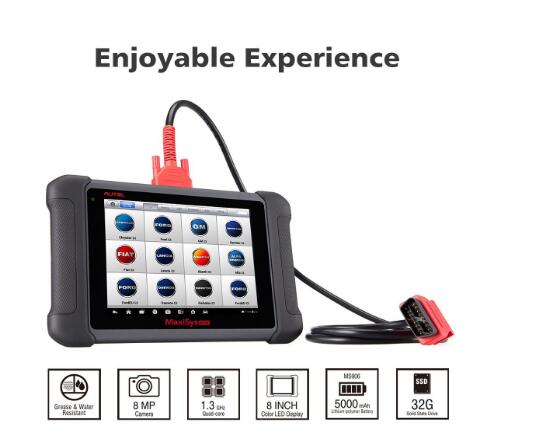 I also used it on a BMW, Toyota Sienna and a Ford Ranger truck and it was able to access all of the modules there as well, perform live tests, actuations, adaptations ( I saw the option to perform shift adaptations on the Mercedes but I haven't tried it yet) and resetting to default values where applicable.
One cool thing I like about it is the ability to perform graphing ( to a limited extent – not oscilloscope detail but still on par with equivalent but more expensive Autel Scan Tool on the market like SnapOn or Matco).
The not so great parts would be the other, non diagnostic related functions like:
1) Email sharing of the diagnostic files ( they have an embedded app but it doesn't work with yahoo or gmail servers – I got around it by downloading the yahoo app and using that one to send files to my computer)
2)The tutorial section ( it's pretty much non existent and for the most part doesn't even connect to the Autel servers)
3) The complete lack of wiring diagrams and any sort of schematics.
Overall this MaxiSYS MS906 is a great tool to have around for working on your car, pre purchase inspections and helping out friends. It's biggest plus in my opinion is it's price, none of the competitors can even get close to it price wise.
Keep in mind that you have to update frequently to be able to work with modules in newer vehicles. Out of the box it has a 1 year free subscription included, after that if you want to update it you have to pay around 600$ per year at Obd2tool.com.