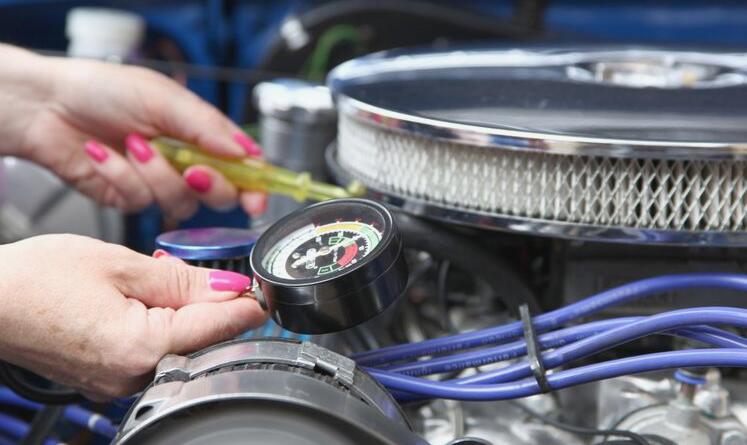 If your vehicle has an engine vacuum leak, the air-fuel ratio in your engine will be higher than 14.7:1, also called a "lean" mixture. This ratio means that there is too much air in your engine, and as a result, the engine will run poorly or not at all. If you suspect that your vehicle has a vacuum leak, read on to learn the most common symptoms, as well as how to fix them.
Common Symptoms of an Engine Vacuum Leak
Engine vacuum leaks are commonly associated with the following symptoms, but keep in mind that this is not an exhaustive list.
Engine Running Problems
An engine with a vacuum leak could potentially run normally, but it may idle faster than usual, idle roughly, misfire, hesitate, or stall. You may find your vehicle doesn't accelerate as well as it typically does. Major intake leaks might prevent the engine from starting at all.
Fuel Economy and Emissions
The lean air-fuel ratio will burn hotter and increase the generation of oxide emissions, such as nitrogen oxide (NOx) and sulfur oxide (SOx). Even if the check engine light isn't triggered, the vehicle may still fail emissions testing. Drivers would also note reduced fuel economy as the engine controller attempts to compensate by adding more fuel. The evaporative emissions control system (EVAP) also depends on vacuum to function, so a vacuum leak in an EVAP valve or tubing might set an emissions diagnostic trouble code (DTC).
Check Engine Light
The engine control module (ECM) continuously monitors the environment in the engine. Using the manifold absolute pressure (MAP) sensor or mass air flow (MAF) sensor, among others, the ECM modulates fuel injector pulse, spark timing, and valve timing. If there is a vacuum leak, the ECM may be unable to compensate. Short-term or long-term fuel trim, STFT or LTFT on a scan tool Automotive Repair Software, might show something like +10% or +25% as the ECM attempts to compensate for unmetered air. P0171 and P0174 are common Fuel System Lean DTC.
Engine Damage
At its worst, long-term driving with a vacuum leak, elevated temperatures generated by running a lean air-fuel ratio could result in engine damage. Lean mixtures can detonate, damaging pistons and bearings. Higher than normal exhaust temperatures can also lead to catalytic converter meltdown.
Other Issues
Depending on where the vacuum leak is located, it could cause a variety of other problems. Some fuel pressure regulators are vacuum modulated, and so would jump to high pressure when vacuum is lost. This could result in fuel trim problems and a check engine light, possibly with Fuel System Rich DTCs, such as P0172 or P0175. Some older power steering systems idle-up the engine using a vacuum switching valve (VSV), but a vacuum leak might stall the engine during a parking maneuver. Many vehicles use a vacuum-actuated brake booster, reducing braking effort, but a vacuum leak here might make it harder to stop your car.
Identifying an Engine Vacuum Leak
There are several methods you can use to identify a vacuum leak. Start with a vacuum hose diagram, which you can find in a repair manual or sometimes on a sticker under the hood. Using one of the following methods, finding the vacuum leak might manifest itself as a change in engine speed or idle smoothness. Smaller leaks may only manifest themselves as fluctuating STFT readings on a OBD2 vehicle scanner.
Visual Check
A visual check is a good way to start, particularly with vacuum hoses and tubes. Exposed to extreme under-hood temperatures and oxygen in the atmosphere, rubber vacuum hoses and plastic vacuum tubes can become stiff or brittle, easily cracking or breaking. Similarly, rubber engine intake tubes can also become brittle, cracking and opening a way for unmetered air to get into the system. Physically manipulating these components with the engine running might reveal the leak.
Water Method
This is the simplest and cheapest method, as it utilizes just a simple spray bottle of water. With the engine running, spray water around suspected vacuum leak areas, such as vacuum hose fittings, intake manifold gaskets, and throttle plate bushings. A vacuum leak will suck in water, temporarily "sealing" the leak. This tiny amount of water won't do any damage to your engine.
Carb Cleaner
Another method is to use a can of carburetor cleaner or intake cleaner spray. Please note that carb cleaner is flammable, so caution must be exercised and a fire extinguisher must be kept close at hand.. Sparingly spray the cleaner to suspect vacuum leak areas, while the engine is idling. If the leak is found, the engine will likely smooth out as the flammable mixture makes up for the lean air-fuel ratio.
Propane
This is a time-tested method for finding vacuum leaks, working on a principle similar to using carb cleaner. Use a small unlit propane torch, such as used for brazing or soldering, and a length of rubber hose. Poke the end of the hose around suspect vacuum leak areas with the engine idling. If the leak is found, the engine will probably speed up or smooth out as the flammable gas "compensates" for the lean AFR. Again, please note that propane is flammable, so caution must be exercised and a fire extinguisher must be kept close at hand.
Mechanic's Stethoscope
Using a mechanic's stethoscope with the probe removed and a length of hose, poke around suspected leak areas while the engine is running. Don't forget to check around the vacuum brake booster, both in the engine bay and behind the brake pedal. Smaller leaks might be difficult to pinpoint, but a trained ear can pick up the distinctive hissing or whistling sound emitted by a vacuum leak.
Bubble Test
If you have access to an air compressor with a good regulator, introduce no more than 2 psi air into the intake with the engine off. (Under 2 psi is critical, as you can damage sensors or valves or create new leaks with higher psi.) Seal off the throttle body and exhaust, then use a soapy-water mixture to spray down the engine. Vacuum leaks may be revealed by the mixture bubbling up at the site of the leak.
Smoke Machine
This is the most expensive and safest method, but usually yields the best results. Not everyone has access to these expensive tools, but it may be necessary if the vacuum leak eludes you. With the engine off, plug the intake and exhaust and start the smoke machine injecting smoke into the intake. The harmless smoke, vaporized mineral oil, might take a couple minutes to fill the system, and will then start looking for ways to get out. A tiny plume of smoke will reveal vacuum leaks, so it's best to do this test in an area free of drafts or wind.
Once you've identified the source of the leak, the obvious solution is to repair it, but it isn't always a simple fix. Vacuum hoses can be replaced easily, as can sensor or tube O-rings, and some valves are also easy to replace. Other vacuum leaks might be more difficult and time-consuming, such as intake manifold gaskets or a faulty brake booster. As always, if you feel like the job is beyond you, check with your local trusted mechanic for professional assistance. Don't forget to reset the check engine light when you're done making repairs.