Looking to buy a scan tool or considering one of Autel Scanner impressive product line?. The company makes some of the best OBD scanners available on the market today.
It's safe to say that you can't go wrong with an Autel Scanner. But out of them all, what is the best Autel scanner? Today I will introduce top Autel scanner review on the market.
10 Autel Scanners Detailed Reviews
1. Autel Maxysis MS908CV: Heavy Duty Diagnostic Scan Tool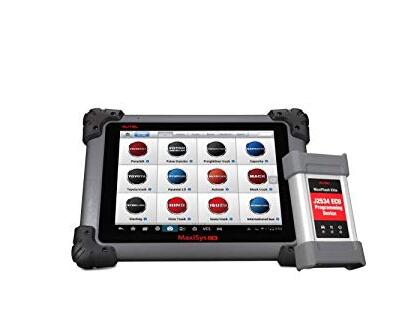 If you're looking for a scanner that can troubleshoot system problems in heavy-duty vehicles then look no further than the Maxysis MS908CV.
This Autel scanner comes with all the connectors for heavy-duty vehicles.
Features
Vehicle coverage
Works on OBD1 and OBD2 heavy-duty vehicles. They include trucks, vans, and buses.
unctionality
Apart from reading and clearing codes, the MS908CV supports oil reset, brake bleeding, EPB, DPF, IMMO key programming, injector throttle and many more.
It also covers special functions like adaptations, calibration, injector quantity adjustment and DPF regeneration.
Connectivity
The scan tool features Bluetooth for wireless connectivity while you are working.
It also has Wi-Fi for internet access. You can go online and get diagnostic and repair tips or update its software.
2. Autel MD802 Maxidiag Elite: A Full System Scanner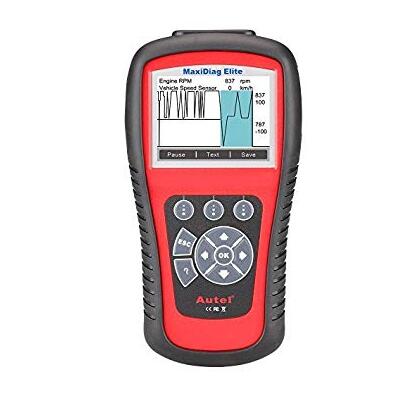 Autel's MD802 Maxidiag is one of the few scan tools that actually perform deep system troubleshooting.
Other than electronic systems like an engine, transmission, airbag, and ABS, this Autel scanner also covers chassis, body and powertrain.
With such functionality, you'd be forgiven for mistaking it for a professional scan tool.
In actual sense, you don't need professional knowledge to use it. It's actually simple and straightforward.
Features
Vehicle coverage
Works on all mainstream made of cars made in America, Europe, and Asia. However, it is strictly an OBD2 scanner. Meaning the car should be a 1996 or newer model.
Functionality
It does a full system diagnosis that involves reading and clearing trouble codes for the engine (Check Engine Light), ABS, SRS, and transmission.
In addition to that, the scanner supports special test modes. They include O2 monitor tests, component test, onboard monitor test, oil reset test and I/M readiness test.
It provides live data, freezes frame data and also retrieves vehicle information.
Connectivity
While this Autel scanner does not support wireless connections, it can connect to a PC. There's a USB cable that comes with the package.
It is meant to help you access the internet via your PC and update the device's software.
Interface
The total weight of Maxidag MD802 is just one pound. Its dimensions are 14.6 x 3.9 x 8.7. That's small enough to be handheld or stored in a toolbox or driver's compartment.
3. Autel MaxiDiag MD808: Diagnostic Scanner Tool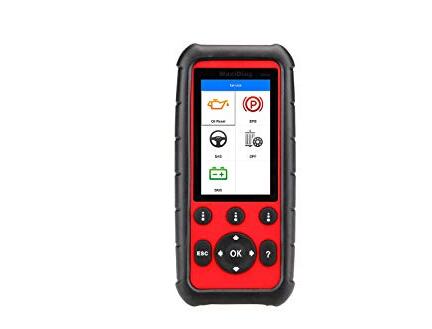 Compared to its predecessor (MaxiDiag MD802), the MD808 is a revolutionary Autel scanner for DIY technicians. It actually qualifies as a service tool on account of the handy features it has to offer.
Features
Vehicle coverage
This Autel scanner is an OBD2 diagnostic device. Therefore it works on all mainstream brand vehicles manufactured from 1996 to date.
Autel MaxiDiag MD808
Image Source
Functionality
The Autel MaxiDiag MD808 offers both basic and advanced diagnostic functions. On the basic front, the device troubleshoots the four primary systems of a vehicle. They are an engine, ABS, SRS, and transmission.
With regards to advanced functions, you can use it for an oil reset, SAS, BMS, EPB, and DPF. In short, this Autel scanner covers virtually every basic OBD2 diagnosis as well as additional tests that enhance a car's performance.
Connectivity
Although the scanner doesn't support a direct USB connection to a PC, it does come with an SD card. You can download updates from a PC to the SD card, and when you insert the card this device will automatically load the updates.
Interface
Autel MaxiDiag MD808
Image Source
Besides the rugged and attractive design, the Autel MaxiDiag MD808 features a full-color screen that measures 4 inches. The 800 x 480 screen makes navigation through menus pretty easy.
The whole device measures 13 x 9.9 x 3.9 inches and weighs 3.55 pounds. That's a perfect size for portability and easy storage.
4. Autel TS401 Maxi: TPMS Activation Tool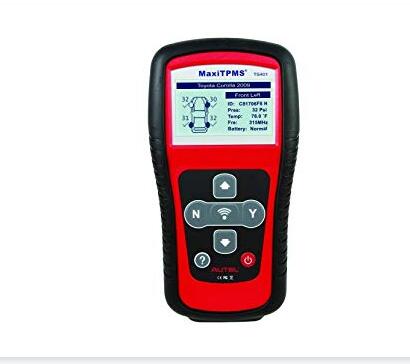 Yet another reliable entry-level scanning device from Autel. While the TS401 doesn't read and clear codes, it pinpoints faults related to TPMS sensors.
As you might expect, the TPMS plays a huge role in on-road safety. Keeping it fault-free will go a long way in ensuring that you are safe. The Autel TS401 is a dedicated device for that.
Features
Vehicle coverage
This Autel scanner works on ALL vehicles that are TPMS-enabled. It covers domestic as well as Asian and European models.
Functionality
Autel TS401
Image Source
The device resets the TPMS and turns off its lights. Note that it is not a code reader. Meaning you can't use it to read or clear TPMS codes.
That said, it diagnoses and reports TPMS faults. After the problem is fixed its status will change from "current' to "historical". And of course, the TPMS will continue to work normally.
As part of its diagnosis, this Autel scanner reads TPMS sensor ID, tire pressure, sensor battery condition and tire temperature. Additionally, it supports programming of OE sensors when you need to replace OEM sensors.
Connectivity
The Autel TS401 MaxiTPMS is a Windows-based diagnostic tool. It links with Windows XP and later versions, which allows you to update the device's software.
Although this Autel scanner is not compatible with Mac, it really is a stand-alone device. You only need a PC when updating the software.
Interface
Perhaps one of the best things about the TS401 is its graphical display. You get a step-by-step guide on how to do TPMS diagnosis on the device's color screen.
The total weight is a mere 3.31 pounds. Combined with dimensions of 15 x 3.5 x 11.4 inches, the light weight makes it one very compact and portable Autel scanner.
5. Autel MaxiSYS Elite Diagnostic ScanTool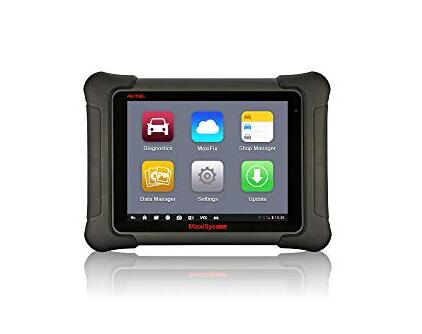 Built with a quad-core, 1.8HGz NVIDIA Tegra processor, the Autel MaxiSYS is one very fast scan tool. It only takes 20 seconds to boot up and start scanning a vehicle for faults. And while that may be a big selling point, it's not even the best thing about this Autel scanner.
Features
Vehicle coverage
It works on over 80 US, Asian and European made vehicle brands. Although it is primarily an OBD2 scanner, you can get OBD1 adapters as well. In short, this scan tool covers virtually all types of vehicles.
Functionality
Autel MaxiSYS Elite
Image Source
As a professional-grade scan tool, the MaxiSYS Elite supports all OBD2 functions. It can read/clear codes and run functional tests for all onboard vehicle systems. They include the ABS, brake system, emissions system, engine, fuel system, lights, SRS, and transmission just to name a few.
Beyond that, this Autel scanner also supports advanced diagnostic functions. You can use it for ECU coding, anti-theft matching, SAS reset, tire pressure reset, injector programming, throttle matching, and DPF reset among several other advanced functions.
Connectivity
With its Bluetooth module, you can connect it wirelessly to a car's systems and run tests without cables constantly hindering your mobility. Additionally, the scanner features Wi-Fi for accessing the internet. Besides updating the software, internet access provides a ton of diagnostic and repair resources from online sources.
Interface
Its highly interactive menus are easily accessible thanks to the fitted 9.7-inch display unit. The whole gadget measures 25.6 x 7.5 x 16.9 inches and weighs 24.9 pounds.
6. Autel MaxiSYS MS906: OBD2 Automotive Diagnostic Scanner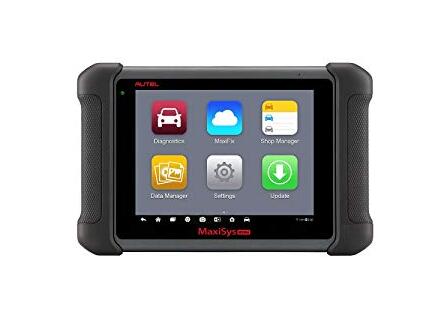 The MaxiSYS MS906 is a massive upgrade from its predecessor, the MaxiDAS DS708. While the latter lacked some features like Wi-Fi, touchscreen, tablet design, immobilizer key programming and data logging, the MS906 has them all.
Features
Operating system
This scan tool runs on an Android operating system. Plus it is fitted with an A9, 1.40 GHz quad-core processor. That's a lot more power than you will get in most other professional scan tools.
Vehicle coverage
The scan tool boasts extensive vehicle coverage of over 80 OBD2 domestic, Asian and European brands. There are special adapters for some car like
Chrysler
BMW
Benz
Nissan
Honda.
As far as diagnosis goes, the MS906 supports full OBD2 functions. It reads and clears codes, provides live data and covers all onboard systems. They include:
ABS, SRS
Brake system
Emissions system
Engine, fuel system, lights
Transmission and many more.
Additionally, this Autel scanner performs more specialized functions that involve adaptation and matching. Actually, it has a dedicated service section for an oil reset, EPB, SAS, DPF, BMS, ABS bleeding, TPMS, IMMO (programming of keys or anti-theft matching).
Connectivity
This scanner connects to the internet using Wi-Fi. That's why it's very simple to update. Alternatively, you can connect it to a PC using a USB cable (included). That way you'll even be able to print diagnostic info.
Autel MaxiSYS MS906
Image Source
Interface
Navigating the MaxiSYS MS906 is pretty simple thanks to its 8-inch LED touchscreen. Also, it features a one-touch access to menus, which makes the whole device very intuitive.
The total weight is 22 pounds and the dimensions are 10 x 1.4 x 6.9 inches. In short, the scanner is well-sized for easy portability and storage.
7.Autel AL519 AutoLink: Enhanced OBD2 Scan Tool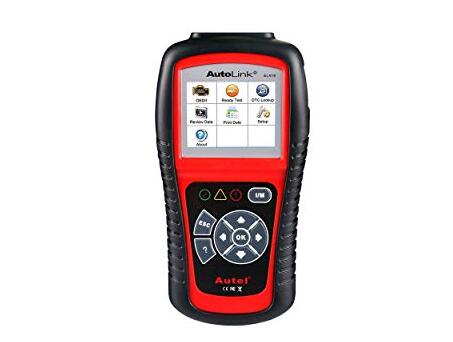 This Autel scanner will help you determine whatever is triggering the Check Engine Light. It gives DTCs and also provides definitions for each. Additionally, the device has a huge library of troubleshooting tips for diagnosis and also repair.
Features
Vehicle coverage
Supports all the 10 OBD2 modes. That means the AL519 works on all vehicles manufactured in 1996 or later. Actually, it covers the US, European and Asian made vehicles.
Functionality
Autel AL519
Image Source
The Autel AL519 primarily turns off the Check Engine Light. It does so by reading and clearing generic, manufacturer-specific and pending engine codes. You can choose to either view the sensor data live or record it.
Besides that, this Autel scanner features the convenient one-click I/M readiness check. With just one push of a button, you can do a quick test of state emissions readiness, drive cycle verification and O2 sensor test.
Other than freeze frame data, the AL519 also displays vehicle information (VIN, CIN and CVN).
Connectivity
When you purchase this Autel scanner it comes with a USB cable for connecting the device to a PC. The connection not only allows for printing of diagnostics info but also makes it possible to update the scanner's software.
Interface
Undoubtedly one of the most compact units from Autel, the AL519 measures a mere 7.83 x 4.11 x 1.48 inches and weighs just 2.05 pounds. Operating it is quite simple thanks to the interactive menus. You can access them via the color TFT screen (320 by 240 dpi).
The fitted LEDs and built-in speaker provide audio-visual notifications during I/M readiness tests.
8. Autel AutoLink AL319: One of best Autel Obd2 scanner
With plug-and-play capabilities, the AL319 doesn't need a built-in battery. It gets its power straight from the car's battery. Meaning the scanner will power up as soon as you connect it to your car. More importantly, it has very handy features that ordinary car owners and beginners can take advantage of.
Features
Autel AutoLink AL319
Image Source
Vehicle coverage
This Autel scanner works on all OBD2 vehicles; both domestic and local. So if your car is a 1996 or newer model then it is almost certainly compatible. That goes for US, European and Asian models.
Functionality
Simple as it is, the Autel AL319 is actually more powerful than you might think. The scanner reads and clear DTCs for most engine problems. Basically, you can use it to check for faults any time the Malfunction Indicator Light (MIL – or check engine light) comes on.
Perhaps, more importantly, is the fact that this Autel scanner provides text definitions of codes on its TFT screen. That's a very handy feature for beginners who may not understand what each code means.
Besides that, it displays emissions status (I/M readiness), freeze frame data, reads live PCM and also retrieves vehicle information. Actually, there's a dedicated key for quickly checking State Emissions. Just one click and the device will do I/M readiness check and drive cycle verification.
Autel AutoLink AL319
The AL319 is definitely not one of those fancy scan tools with Wi-Fi and Bluetooth. But it supports USB connection to a PC. That, in turn, makes it easy to update the scanner's software and allow it to cover the latest car models.
Interface
Pretty much anybody can use this Autel scanner. Finding its menus is very easy thanks to the TFT color display installed.
The whole device only has two operation buttons for retrieving data codes and live data. One of the buttons is dedicated to all I/M readiness tests.
Additionally, the Autel AL319 has brightly colored LEDs that come on to show the I/M readiness status. There's also a built-in speaker that produces audio notifications when the I/M status changes.
With dimensions of 4.61 x 2.83 x 0.71 inches, this Autel scanner is very compact. Also, it weighs just one pound, which makes it portable and easy to store.
9.Autel Maxisys Pro MS908P: Professional Automotive Diagnostic Tool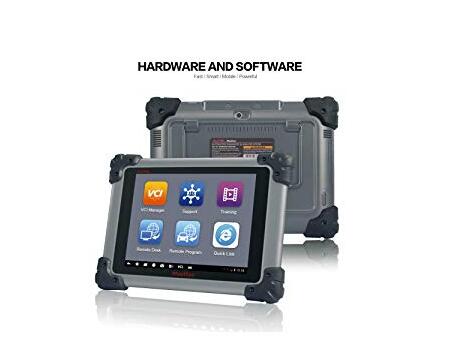 Autel Maxisys Pro MS908P is a smart diagnostic tool which is based on the intuitive and smart android operating system to provide powerfully and the fastest scanning capabilities.
Besides, Autel Maxisys Pro MS908P offers the best coverage of OE-level diagnostic. As a result, you can perform any diagnostic job imaginable within your shop.
Moreover, Autel Maxisys Pro MS908P offers smart technology for smart repairs.
What's the importance of ECU coding and programming?
Well, if you need to update the software in your car to the most recent version then you must perform ECU coding and programming.
At the same time, these functions are critical in reprogramming data for some specific components after repairing or replacing parts of a vehicle.
The most comforting thing is that the programming functions can be performed reliably and safely with Autel Maxisys Pro MS908P.
Data logging is another interactive platform that allows you to connect with Autel technicians.
Then the technicians can help you with first-hand troubleshooting tips and ways to fix bugs and errors.
The other interactive platform is the notification center. This platform will allow you to access the latest additions or inform you when you need to perform software updates.
Data manager and update notification are the last two interactive platforms supported by Autel MaxisysPro MS908P.
10. AUTEL MaxiDAS DS808 KIT DS808K Tablet Diagnostic Tool Full Set Support Injector & Key Coding Update Online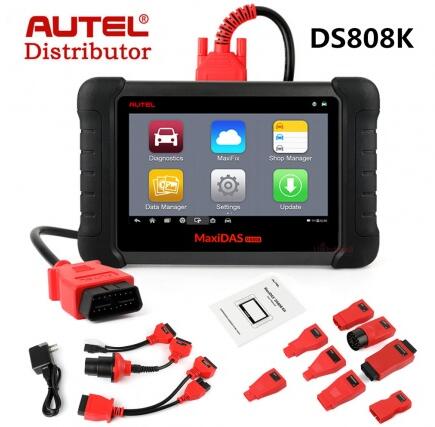 AUTEL MaxiDAS DS808 full set VS MaxiDAS DS808:
The only difference: DS808 is full set, MaxiDAS DS808 is standard set. Please confirm by checking their packge list.
Same: same functions and same MUX specification
Autel Maxidas DS808 Support Customized Languages besides English and Spanish. If you need to change device languge, please send us serial number and your location first. And it will cost usd120.
We can support update onine,update cost is 400USD/year.
We can authorize other language like Korean,  Russian,  Portuguese, Italian, Dutch, Swedish, Japanese.
MaxiDAS DS808 (With Conkit) Features:
Extensive vehicle coverage for more than 80 US, Asian and European vehicle makes
Exceptional OE-Level system coverage for all electronic systems
Complete capabilities for codes, live data, active test, ECU information, adaptation, matching, etc.
Smart AutoVIN technology for identifying vehicles easily
Automatic system and software updates with real-time push message notifications via Wi-Fi
Instant remote control tech support anytime, anywhere
Cloud-based MaxiFix online community provides a vast database of diagnostic and repair tips and proven filed fixes
Interactive Data Logging sessions enable direct contact with Autel Technical Support for first-hand troubleshooting of diagnostic bugs and errors
One-stop multitasking designed for ideal management of workshop operations to keep all data files, customer info, and vehicle records well organized
Convenient data management system for managing internal program applications and reviewing data