what is in the menu for a 1991 Corvette systems and a 2002 Pontiac Grand Prix SE 3.1L for the same. There are the 2 cars I own. Also what software version as I have seen 33.004 and 33.007 for GM english language. I am assuming I only need the dongle for the PC software if I want to reflash the ECU rather than just maintain the 2 cars. One of the things I don't see mentioned even in the Bosch manual is the relearn crank sensor on the Pontiac or much about the 91 that the software claims to cover but no mention of bi-directional on the 91 Corvette.
OK, I will have to spend some time to write down all of the menu items just for the 2002 Pontiac Grand Prix. I did capture a screen for that car for what the GM Tech2 calls a Crank Position Variation Relearn.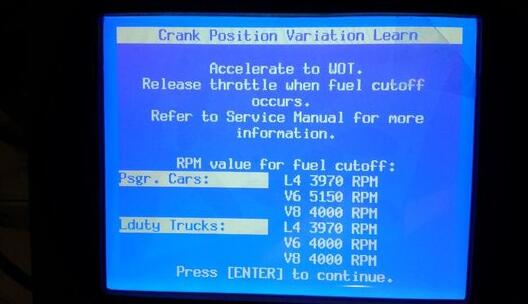 Relearn for 2002 Pontiac Gran Prix.
The only vehicles listed under 91 is Saturn, however I have 33.004, so not sure if there is a 33.007 and it covers 91 better. If I enter 92 I have the option of doing diagnostics on a Y body with L98, which is certainly not for a 92.
Perhaps for the 91 Corvette you need a different memory card, like this one.
I wonder if with the CD and dongle it is possible to download the older disc? The ABS and usual emissions stuff is the mot important for me right now on the Pontiac and ABS on the 91 Corvette
With the version of TIS2000 I have the versions supported are 27.010 and 27.012. I have no way see what is on those versions without downgrading my memory card, but would have no way to go back to 33.004.