This article is available with Xprog V6.12 software free download link, win7 8 installation guide, full chip list etc.
Read: Xprog V6.12 software vs Xprog 5.84
Free download Xprog V6.12 ECU programmer:
https://share.weiyun.com/5m5Vkw0
Password: fxo5qz
How to quickly download: click on "极速下载", then click on "微信账号登录", then take the photo of the QR code, send it to Sales@obd2tool.com, then you can quickly download it, about 5.5-5.8MB per second.
Language: English
OS: windows xp, win7 & win8
Compatible with brand new Xprog V6.12 (Firmware V4.4) :
Source: https://www.obd2tool.com/goods-10278-Latest-Version-XPROG-M-ECU-Programmer.html
New Xprog V6.12 adds 2 new authorization & 4 new adapters:
AUTH-0028-3 Renesas RL78
AUTH-0028-4 Renesas M32C)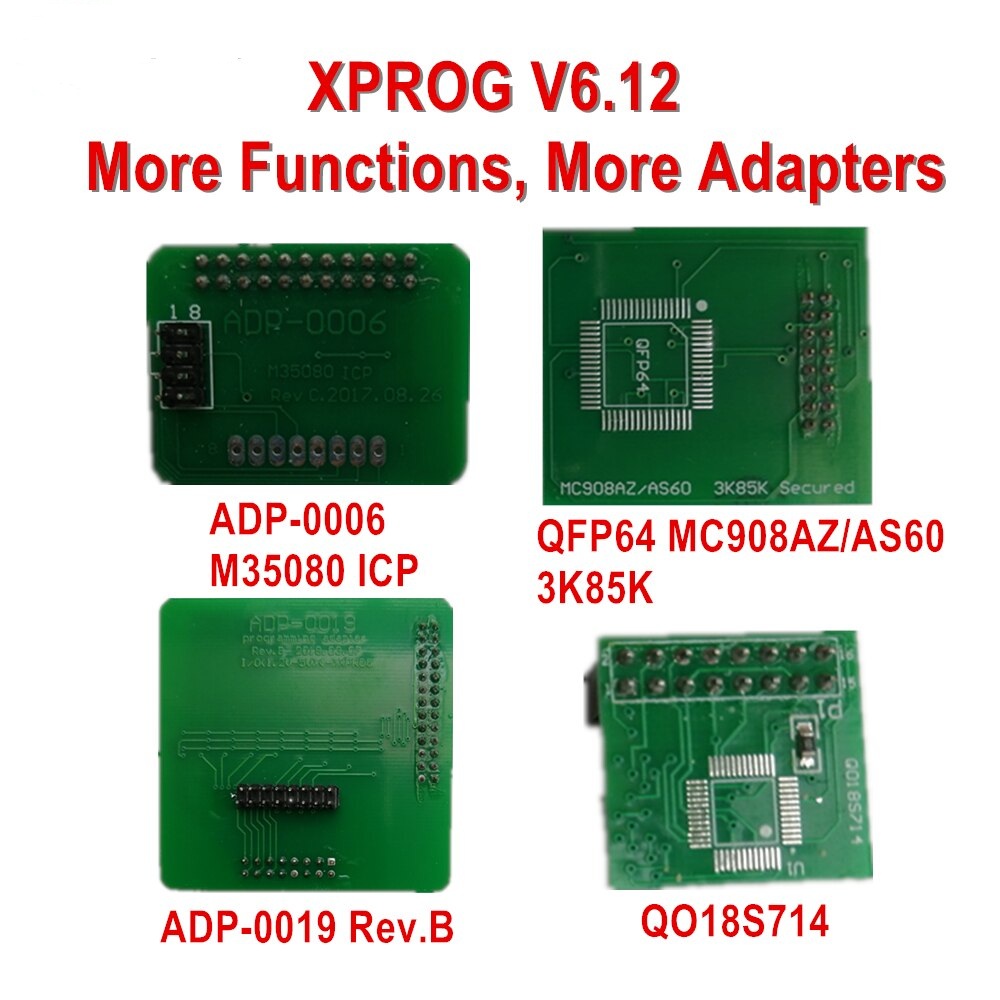 Xprog V6.12 software install on windows XP 7 8:
Dos & Don'ts:
Not compatible with older version Xprog.
Uninstall the older version Xprogbefore installing Xprog V6.12software.
Uninstall all anti-virus software in your computer.
No internet connection.
Not support update.
Xprog V6.12 connection: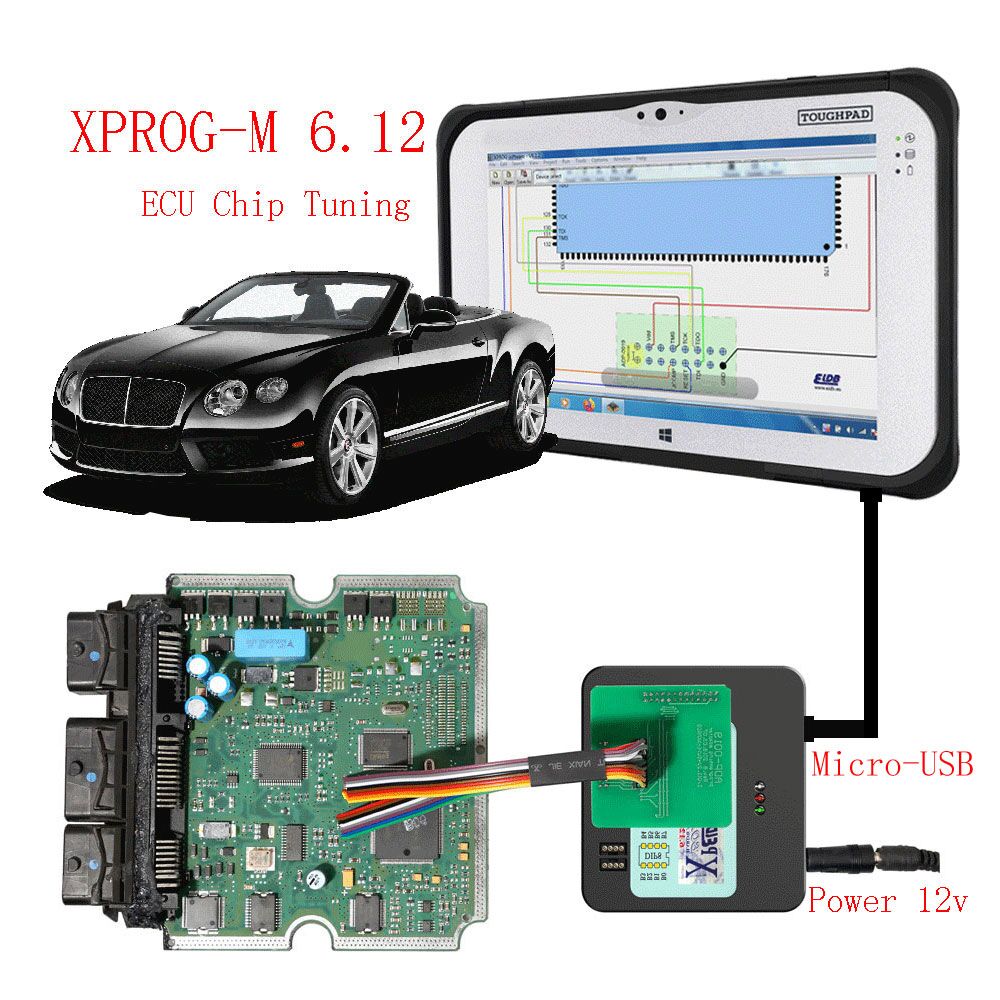 Here Xprog V6.12 full chip list:
EEPROM
Atmel
AT24C01A
AT24C02
AT24C04
AT24C08
AT24C16
AT24C32
AT24C32A
AT24C64
AT24C64A
AT25010
AT25020
AT25040
AT25080
AT25160
AT25320
AT25640
AT25128
AT25256
AT93C46
AT93C46A
AT93C56
AT93C56A
AT93C57
AT93C66
AT93C66A
Catalyst
CAT24(W)C01
CAT24(W)C02
CAT24(W)C04
CAT24(W)CO8
CAT24(W)C16
CAT24(W)C32
CAT24(W)C64
CAT93C46
CAT93C46A
CAT93C56
CAT93C56A
CAT93C57
CAT93C66
CAT93C66A
CAT93C86
CAT93C86A
FAIRCHILD
FM93C46
FM93CS46
FM93C56
FM93C66
FM93C86A
Microchip
24xx00
24xx01
24xx014
24xx02
24xx04
24xx08
24xx16
24xx32
24xx64
24xx128
24xx256
24xx320
93xx46A
93xx46B
93xx46C
93xx56A
93xx56B
93xx56C
93xx66A
93xx66B
93xx66C
93xx76A
93xx76B
93xx76C
93xx86A
93xx86B
93xx86C
Mitsubishi
M6M80011
M6M80021
M6M80041
National
NM24C02
NM24C03
NM24C04
NM24C05
NM24C08
NM24C09
NM24C16
NM24C17
NM93C06/L/LZ
NM93C46/L/LZ
NM93CS46/L/LZ
NM93C46A/AL
NM93C56/L/LZ
NM93C56A
NM93CS56/L/LZ
NM93C66/L/LZ
NM93C66A
NM93CS66/L/LZ
NM93C86A/AL
ST
ST24/25xx01
ST24/25xx02
ST24/25xx04
ST24/25xx08
ST24/25xx16
M24C32
ST24/25E32
M24C64
ST24/25E64
ST24/25E256
M35080
M35160
M93C06
M93C46
M93C56
M93C66
M93C76
M93C86
M95010
M95020
M95040
M95080
M95160
M95320
M95640
M95128
M95256
M95512
ST93C06
ST93C46A/47
ST93CS46/47
ST93C56/57
ST93CS56/57
ST93C66/67
ST93CS66/67
ST95P02
ST95P04
ST95P08
Toshiba
TC89101
TC89102
Xicor
X24(C)02
X24(C)04
X24(C)08
X24(C)16
X24164
X24(C)44
MCU/MPU
Atmel
ATmega8
ATmega16
ATmega32
ATmega64
ATmega128
Infineon(XC16x)
SA-KXC164C9-16F
SA-KXC164CS-32F
Infineon(XC20xx)
SAH-XC2060M-104 flash0
SAH-XC2060M-104 flash1
SAH-XC2060M-104 flash2
SAH-XC2060M-104 flash3
SAK-XC2060N-40 flash0
SAK-XC2060N-40 flash1
Infineon(XC22xx)
SAH-XC226xN-16 flash0
SAH-XC226xN-16 flash1
SAH-XC226xN-24 flash0
SAH-XC226xN-24 flash1
5AH-XC226xN-40 flash0
SAH-XC226xN-40 flash1
Infineon(XC23xx)
SAH-XC23364-72 flashO
SAH-XC23364-72 flash1
SAH-XC23364-72 flash3
SAK-XC2336B-24 fla.h0
SAK-XC2336B-24 flash1
SAK-XC2336B-40 flash0
SAK-XC2336B-40 flash1
SAK-XC236xA-56 flashO
SAH-XC236xA-56 flash1
SAH-XC236xA-56 flash3
SAH-XC236xA-72 flash0
SAH-XC236xA.72 flash1
SAH-XC236xA-72 flash3
SAH-XC236xA-104 fashO
SAH-XC236xA.104 fash1
SAH-XC236xA-104 flash2
SAH-XC236xA-104 flash3
SAH-XC236xB-24 flashO
SAH-XC236xB-24 fash1
SAH-XC236xB-40 flashO
SAH-XC236xB-40 flash1
neon(XC27xx)
SAH-XC27x7X flash0
SAH-XC27x7X flash1
SAH-XC27x7X flash2
SAH-XC27x7X flash3
SAH-XC27x7X flash4
SAH-XC27x7X flash5
SAH-XC27x7X flash6
Freescale/NXP(MAC7xxx)
MAC7111VAG50 Flash
MAC7111VAG50_ Data_ Flash
MAC71 12VAG50_ Flash
MAC7112VAG50_ Data _Flash
MAC7116VAG50_ Flash
MAC7116VAG50_ Data _Flash
MAC7131MVF_ Flash
MAC7131MVF_ Data_ FIash
MAC7241VAF64_ Flash
MAC7241VAF64_ Shadow_ Block
MAC7242VAF64_ Flash
MAC7242VAF64_Shadow_Block
Microchip
PIC12C509A
Micronas
CDC3217G
CDC3272G
CDC3297G
CDC32xxG> 24C32
Micronas-secured
CDC3217G-secured
CDC3272G-secured
CDC3297G-secured
CDC32xxG-secured>24C32
Freescale/NXP HCO5
MC68HC05B4/B6/B8/B16/B32
MC68HC705B16[0D28J]
MC68HC705B16N
MC68HC705B32
MC68HC705B32(3G96A)
MC68HC05X32(0D53J)
MC68HC05X32(0D62J)
MC68HC05X32(0D69J;1H52A)
MC68HC05X32[1D69J]
MC68HC705X32(2D59J)
MC68HC05K3(S105078003)
NC68HC05E6(0F82B)
MC68HC05E6(0G72G)
MC68HC05H12[0H57A]
MC68HC05P3(1E25B)
MC68HC705P3(1F75B)
MC68HC05V12(1H24M)
Freescale/NXP HCO8
XC68HC708AZ60(8H62A)
MC68HC084S32(1J27F)
MC68HC08AZ32
MC68HC08AZ32(0J66D)
MC68HC908AZ32(0L72A)
MC68HC08AZ32A(1L52H)
MC68HC08AZ32A(2L52H]
MC68HC08AS60
MC68HC08AS60[8H62A)
MC68HC908AS60(3J74Y)
MC68HC08AZ60
MC68HC08AZ60(2J74Y)
MC68HC08AZ60[1J35D)
MC68HC08AZ60A
MC68HC08AZ604(1L87J)
MC68HC9084Z604[3K85K]
Freescale/NXP HCO8-Updated
MC68HCx08AS/AZ32 CONFIG
MC68HCx08AS/AZ60 CONFIG
MC68HCx08AS/AZ32A CONFIG
MC68HCx08AS/AZ60A CONFIG
MC68HCx08AS/AZxxx EEPROM1+security
MC68HCx08AS/AZxxx EEPROM2+security
MC68HCx08AS/AZxxA EEPROM2+security
MC68HC908AS32A_ FLASH+security
MC68HC908AS32A_FLASH+secuity
MC68HC908AS60_ FLASH+security
MC68HC908AS60A_ FLASH+security
MC68HC908AZ60_FLASH+security
MC68HC9084Z60A FLASH+security
MC68HC908GR4_ FLASH+secuity
MC68HC908GR8_ FLASH+secuity
MC68HC908GR16 FLASH+security
MC68HC908LJ12 FLASH+security
MC68HC908L J24_ FLASH+security
MC68HC908LK24_ FLASH+secunty
Freescale/NXP 9S08
MC9S08AC/AW8(A) FLASH
MC9S08AC/AW16(A) FLASH
MC9S08AW32_ FL ASH
MC9S08AW48_ FLASH
MC9S08AW60_ FLASH
MC9S08DZ16_ EEPROM
MC9S08DZ16_ FLASH
MC9S08DZ32_ EEPROM
MC9S08DZ32_ FLASH
MC9S08DZ48_ EEPROM
MC9S08DZ48_ FLASH
MC9S08DZ60_ EEPROM
MC9S08DZ60_ FLASH-I
MC9S08DZ60_ FL4SH-II
MC9S08DZ96_ EEPROM
MC9S08DZ96_ FLASH
MC9S08DV96_ FLASH
MC9S08DZ128_ EEPROM
MC9S08DZ128 FLASH
MC9S08DV128 FLASH
MC9S08EL 16 EEPROM
MC9S08EL 16 FLASH
MC9S08EL 32 EEPROM
MC9S08EL 32 FLASH
MC9S08FL8 FLASH
MC9S08FL 16 FLASH
MC9S08JM8_ FLASH
MC9S08JM16_ FLASH
MC9S08JM32_ FLASH
MC9S08JM60_ FLASH
MC9S08SG4 FLASH
MC9S08SG8 FLASH
MC9S08SG16 FLASH
MC9S08SG32 FLASH
MC9S08SH4 FLASH
MC9S08SH8 FLASH
MC9S08SH16 FLASH
MC9S08SH32 FLASH
MC9S08SL 8 EEPROM
MC9S08SL 8 FLASH
MC9S08SL 16 EEPROM
MC9S08SL 16 FLASH
Freescale/NXP HC11
MC68HC11A1[C11W]
MC68HC11A8-old
MC68HC11A8-new
MC68HC11A8[AB95T)
MC68HC11E1
MC68HC11E9(4E28B)
MC68HC11E9(W/Secunty 0F36W)
MC68HC11EA9
MC68HC11EA9(0D46J)
MC68HC11EA9[1D47J]
MC68HC11EA9[2D47J)
MC68HC11F1(2F37E]
MC68HC11F1E87J]
MC68HC11K4
MC68HC11K4(0E75J]
MC68HC11K4(1E62H]
MC68HC11K4[3E74J)
MC68HC11KA4
MC68HC11KA4(0E57S)
MC68HC11KS2(1E59B)
MC68HC11KS2(0H95B]
MC68HC11KW1
MC68HC11L6
MC68HC11P2(3E74J)
MC68HC11P2(1E53M]
MC68HC11P2(0G10V]
MC68HC11PA8
MC68HC11PH8
MC68HC11PH8[3D64J]
MC68HC11PH8(0H30R)
Freescale/NXP HC(S)12
MC68HC12BL16 EEPROM
MC68HC1 2B32 EEPROM
MC68HC912BD32 EEPROM
MC68HC912BD32_ FLASH
MC68HC912D60_ EEPROM
MC68HC912D60_ FLASH
MC68HC912D60A_ EEPROM
MC68HC912D60A_ FLASH
MC68HC912Dx128_ EEPROM
MC68HC912Dx128_ FLASH
MC68HC912Dx128A _EEPROM
MC68HC912Dx128A_FLASH
MC9S12C16-FLASH
MC9S12C32-FLASH
MC9S12C64-FLASH
MC9S12C96-FLASH
MC9S12C128-FLASH
MC9S12_ EEPROM
MC9S12_ FLASH
MC68HC912BD32-EEPROM-secured
MC68HC912BD32-FLASH-secured
MC68HC912D60-EEPROM-secured
MC68HC912D60-FLASH-secured
MC68HC912D60A-EEPROM-ecured
MC68HC912D60A-FLASH-secured
MC68HC912Dx128-EEPROM-secured
MC68HC912Dx128-FLASH-secured
MC68HC91 Dx128A-EEPROM-secured
MC68HC912Dx128A-FLASH-secured
MC9S12C64-FLASH-ecured
MC9S12T64-FLASH
MC9S12-EEPROM-secured
MC9S12-FLASH-secured
Freescale/NXP 9S12G
MC9S12G(A/N)NVM
MC9S12G(A/N)16 EEPROM
MC9S12G(A/N)16_ P-FLASH
MC9S12G(A/N)32_ EEPROM
MC9S12G(A/N)32_ P-FLASH
MC9S1 2G(A/N)48_ EEPROM
MC9S12G[A/N)48_ P-FLASH
MC9S1 2G(A)64_ EEPROM
MC9S1 2G[A)64_ P-FLASH
MC9S1 2G[A)96_ EEPROM
MC9S12G(A)96_ P-FLASH
MC9S12G(A)128 EEPROM
MC9S12G(A)128 P-FLASH
MC9S12G(A)192 EEPROM
MC9S12G(A)192 _P-FLASH
MC9S12G(A)240_ EEPROM
MC9S12G(A)240_PFLASH
Freescale/NXP 9S12HA/HY/P
MC9S12HA32/48/64 D-FLASH
MC9S12HY32/48/64_ D-FLASH
MC9S12P32/64/96/128 D-FLASH
MC9S12HY/HA32_ P-FLASH
MC9S12HY/HA48_ P-FL4SH
MC9S12HY/HA64_ P-FLASH
MC9S12P32_ P-FLASH
MC9S12P64_ P-FLASH
MC9S12P96_ P-FLASH
MC9S12P128_ P-FLASH
Freescale/NXP 9S12HZ
MC9S12HZ128/256 EEPROM
MC9S12HZ128 FLASH
MC9S12HZ256 FLASH
Freescale/NXP 9S12VR
MC9S12VR NVM
MC9S12VR16 FLASH
MC9S12VR32 FLASH
MC9S12VR48 FLASH
MC9S12VR64 FLASH
MC9S12VR16 EEPROM
MC9S12VR32 EEPROM
MC9S12VR48 EEPROM
MC9S12VR64 EEPROM
Freescale/NXP 9S12XD
MC9S12XDx128 EEPROM
MC9S12XDx128_ FLASH
MC9S12XD256_ EEPROM
MC9S12XD256_ FLASH
MC9S12XDT384_ EEPROM
MC9S12XDT384_ FLASH
MC9S1 2XDP512_ EEPROM
MC9S12XDP512_ FLASH
MC9S12XDx128-EEPROM-secured
MC9S12XDx128-FLASH-secured
MC9S12XD256-EEPROM-secured
MC9S12XD256-FLASH-secured
MC9S12XDT384-EEPROM-ecured
MC9S12XDT384-FLASH-secured
MC9S12XDP512-EEROM-secured
MC9S12XDP512-FLASH-secured
Freescale/NXP 9S12XE
MC9S12XEG128 EEE
MC9S12XEG128_ D-FLASH
MC9S12XEG128_ P-FLASH
MC9S12XET256_ EEE
MC9S12XET256_ D-FLASH
MC9S12XET256_ P-FLASH
MC9S12XEQ384_ EEE
MC9S12XEQ384_ D-FLASH
MC9S12XEQ384_ P-FLASH
MC9S12XEQ/XET512 _EEE
MC9S12XEQ/XET512_ _D-FLASH
MC9S12XEQ/XET512 P-FLASH
MC9S12XEP768_ EEE
MC9S12XEP768_ D-FLASH
MC9S12XEP768_ P-FLASH
MC9S12XEP100 EEE
MC9S12XEP100_ D-FLASH
MC9S12XEP100_ P-FLASH
MC9S12XEG128_ EEE-Secured
MC9S12XEG128_ D-FLASH-Secured
MC9S12XEG128_ P-FLASH-Secured
MC9S12XET256_ EEE Secured
MC9S12XET256_ D-FLASH-Secured
MC9S12XET256_ P-FLASH-Secured
MC9S12XEQ384_ EEE Secured
MC9S12XEQ384_ D-FLASH-Secured
MC9S12XEQ384 P-FLASH-Secured
MC9S12XEQ/XET512_ EEE Secured
MC9S12XEQ/XET512_ D-FLASH-Secured
MC9S12XEQ/XET512_P-FLASH-Secured
MC9S12XEP768_ EEE-Secured
MC9S12XEP768 D-FLASH-Secured
MC9S12XEP768 P-FLASH-Secured
MC9S12XEP100 EEE-Secured
MC9S12XEP100 D-FLASH-Secured
MC9S12XEP100 P-FLASH-Secured
Freescale/NXP 9S12XF
MC9S12XF EEPROM+securty
MC9S12XF EEPROM from D_ FLASH+secuity
MC9S12XF D-FLASH+secunty
MC9S12XF128_ P-FLASH+security
MC9S12XF256_ P-FLASH+security
MC9S12XF384_ P-FLASH+secunity
MC9S12XF512 P-FLASH+security
Freescale/NXP 9S12XHY
MC9S12XHY128 D-FLASH
MC9S12XHY128_ P-FLASH
MC9S12XHY256_ D-FLASH
MC9S12XHY256_ P-FLASH
Freescale/NXP 9S12XHZ
MC9S12XHZ256 EEPROM
MC9S12XHZ256_ FLASH
MC9S12XHZ384_ EEPROM
MC9S12XHZ384_ FLASH
MC9S12XHZ512 EEPROM
MC9S12XHZ512_ FLASH
Freescale/NXP 9S12XS
MC9S12XS64 D-FLASH
MC9S12XS64_ P-FLASH
MC9S12XS128_ D-FLASH
MC9S12XS128_ P-FLASH
MC9S12XS256 D-FLASH
MC9S12XS256_ P-FLASH
MC9S12XS128 D-FLASH-Secured
MC9S12XS128_ P-FLASH-Secured
MC9S12XS256 D-FLASH-Secured
MC9S12XS256_ P-FLASH-Secured
Freescale/NXP MPC5xx
MPC
MPC->Configuration-A
MPC->Configuration-B
MPC->External FLASH
MPC->External EEPROM M95xxx
Freescale/NXP MPC55xx
MPC5515 CODE Flash
MPC5516_ CODE_ Flash
MPC5517_ CODE_ Flash
MPC5554_ CODE_ Flash
MPC5565_ CODE_ Flash
MPC5566_ CODE_ Flash
MPC551x_ Shadow
MPC5554_ Shadow
Freescale/NXP MPC560x
MPC560xB/C/P DATA Fash
MPC560x5_ DATA-Flash
MPC5602B_ CODE Flash
MPC5603B_ CODE_ FIash
MPC5604B_ CODE_ Flash
MPC5605B_ CODE_ FIash
MPC5606B_ CODE_ FIash
MPC5607B_ CODE_ Flash
MPC5602C_ CODE_ FIash
MPC5603C_ CODE_ Flash
MPC5604C_ CODE _Flash
MPC5604P CODE Flash
MPC5602S CODE Flash
MPC5604S CODE Flsh
MPC5606S CODE Flash0
MPC5606S CODE Flash1
MPC560xB/C/P Code Flash Test
MPC5608B/C/P- Gode Flash Shadow
MP5S60B/CPTest Flash _lock
MPC560xS Code Flash Test
MPC5606S_ Code_ Flash_ Test1
MPC560xS_ Code_ Flash_ Shadow
MPC560xS_ Test_Flash_ Block
Freescale/NXP MPC563x
MPC/SPC5632M Flash0
MPC/SPC5632M Flash1
MPC/SPC5633M Flath0
MPC/SPC5633M Flash1
MPC/SPC5634M Flash0
MPC/SPC5634M Flash1
MPC/SPC5634M Flash2
MPC/SPC563xM Shadow
MPC/SPC563xM OTP0
MPC/SPC563xM OTP1
MPC/SPC563xM OTP2
Freescale/NXP MPC564x
MPC/SPC5642A-CODE  Flash
MPC/SPC5644A-CODE  Flash
MPC/SPC564XA-Shadow A
MPC/SPC5644A-Shadow B
National
CR16MCS9V
CR16MCS9V-KLine
Renesas M32C
M308xxx-data Flash
M30853FW Code Flash
M30853FH Code Flash
M30853FJ Code Flash
M30855FW Code Flash
M30855FH Code Flash
M30855F3 Code Flash
M30880FW Code Flash
M30880FH Code Flash
M30880FJ Code Flash
M30882FW Code Flash
M30882FH code flash
M30882FJ Code Flash
Renesas R32C
R5F6452X EEPROM
R5F6452X EEPROM ECC
R5F6452x Data Flash
R5F64524 Code Flash
R5F64525 Code Flash
Renesas RH850
R7F01A223-Data Flash
R7F01A223-Code Flash
R7F7010xx-Data Flash
R7F7014xx-Data _Flash
R7F7010xx-Code Flash-256kB
R7F7010xx-Code Fash-384kB
R7F7010xx-Code Flash-512B
R7F7010xx-Code Flash-768KB
R7F7010xx Code Flash-1024B
R7F7010xx-Code Flash-1536kB
R7F7010xx-Code Flash-2048kB
R7F7014xx-Code Flash-2048KB
R7F7014xx-Code Flash-3840kb
R7F7014xx-Code Flach-4096kb
R7F7014xx-Code Flash-5120kb
Renesas RL78/G13
R5F 100xxx Data Flash 4b
R5F 100xxx Data Flash 8kb
R5F 100/101XAx Code Flash 16kb
R5F100/10 1xCx Code Flash 32kb
R5F100/10 1xDx Code Flash 48kb
R5F100/101xEx_Code_Flash_64kb
R5F 100/101xFx_Code_Flash_96kb
R5F100/101xGx_Code_Flash_128kb
R5F100/101xhx_Code_Flash_192kb
R5F100/101×Jx_Code_Flash_256kb
R5F100/101xKx_Code_Flash_384kb
R5F100/101xLx_Code_Flash_512kb
Renesas SuperH
64F7055F
R4F70580S
Renesas V850-UART
uPD70F33xx Data Flash(UART)
uPD70F36xx Data Flash[UART)
uPD70F3344/54/64_ Code_ FIash(UART)
uPD70F3345/55/65_ Code_ FIash(UART)
uPD70F3346/56/66_ Code_ FIash(UART)
uPD70F3347/57/67_ Code_ FIash(UART)
uPD70F3348/58/68_ Code_ FIash(UART)
uPD70F3370_ Code_ Flash(UART)
uPD70F3371_ Code_ Flash(UART)
uPD70F3372_ Code_ Flash(UART)
uPD70F3373_ Code_ Flash(UART)
uPD70F3374_ Code_ Flash(UART)
uPD70F3375_ Code_ Flash(UART)
uPD70F3376_ Code_ Flash(UART)
uPD70F3377_ Code_ Flash(UART)
uPD70F3378_ Code_ Flash(UART)
uPD70F3379_ Code_ FIash(UART)
uPD70F3380_ Code_ Flash(UART)
uPD70F3381_ Code_ Flash(UART)
uPD70F3382_ Code_ FIash(UART)
uPD70F3383_ Code_ Flash(UART)
uPD70F3384_ Code_ FIash(UART)
uPD70F3385_ Code_ Flash(UART)
uPD70F3610_ Code_ FIash(UART)
uPD70F3611_ Code_Flash(UART)
uPD70F3612_ Code_ Flash(UART)
uPD70F3613_ Code_ Flash(UART)
uPD70F3614_ Code_ Flash(UART)
uPD70F3615_ Code_ FIash(UART)
uPD70F3616_ Code_FIash(UART)
uPD70F3617_ Code_ Flash(UART)
uPD70F3618_ Code_ FIash(UART)
uPD70F3619_ Code_ Flash(UART)
uPD70F3620_ Code_ FIash(UART)
uPD70F3621_ Code_ Flash(UART)
uPD70F3622_ Code_ Flash(UART)
uPD70F3623_ Code_ FIash(UART)
uPD70F3624 _Code_ Flash(UART)
uPD70F3625_ Code_ FIash(UART)
uPD70F3626_ Code_ Flash(UART)
uPD70F3627_ Code_ Flash(UART)
uPD70F3628_ Code_ FIash(UART)
uPD70F3629_ Code_ FIash(UART)
uPD70F3630_Code_ Flash(UART)
uPD70F3631_ Code_ FIash(UART)
uPD70F3632_ Code_ Flash(UART)
uPD70F3633_ Code_ Flash(UART)
uPD70F3634_ Code_ FIash(UART)
uPD70F3635_ Code_ FIash(UART)
uPD70F3636_ Code_ Flash(UART)
uPD70F3637_ Code_ Flash(UART)
uPD70F3638_ Code_ FIash(UART)
Renesas V850-SPI
uPD70F33xx Data Flash(SPI)
uPD70F346x_ Data Flash(SPI)
uPD70F347x_ Data_ FIash(SPI)
uPD70F36xx_ Data FIash(SPI)
uPD70F3231 Code_Flash(SPl)
uPD70F3344/54/64_ Code_ Flash(SPI)
uPD70F3345/55/65_ Code_ Flash(SPI)
uPD70F3346/56/66_ Code_ Flash(SPI)
uPD70F3347/57/67_ Code_ Flash(SPI)
uPD70F3348/58/68_ Code_ Flash(SPI)
uPD70F3370_Code_ Flash(SPI)
uPD70F3371_Code_ Flash(SPI)
uPD70F3372_Code_ Flash(SPI)
uPD70F3373_Code_ Flash(SPI)
uPD70F3374_Code_ Flash(SPI)
uPD70F3375_Code_ Flash(SPI)
uPD70F3376_Code_ Flash(SPI)
uPD70F3377_Code_ Flash(SPI)
uPD70F3378_Code_ Flash(SPI)
uPD70F3379_Code_ Flash(SPI)
uPD70F3380_Code_ Flash(SPI)
uPD70F3381_Code_ Flash(SPI)
uPD70F3382_Code_ Flash(SPI)
uPD70F3383_Code_ Flash(SPI)
uPD70F3384_Code_ Flash(SPI)
uPD70F3385_Code_ Flash(SPI)
uPD70F3464_Code_ Flash(SPI)
uPD70F3465_Code_ Flash(SPI)
uPD70F3466_Code_ Flash(SPI)
uPD70F3470_Code_ Flash(SPI)
uPD70F3471_Code_ Flash(SPI)
uPD70F3472_Code_ Flash(SPI)
uPD70F3610_Code_ Flash(SPI)
uPD70F3611_Code_ Flash(SPI)
uPD70F3612_Code_ Flash(SPI)
uPD70F3613_Code_ Flash(SPI)
uPD70F3614_Code_ Flash(SPI)
uPD70F3615_Code_ Flash(SPI)
uPD70F3616_Code_ Flash(SPI)
uPD70F3617_Code_ Flash(SPI)
uPD70F3618_Code_ Flash(SPI)
uPD70F3619_Code_ Flash(SPI)
uPD70F3620_Code_ Flash(SPI)
uPD70F3621_Code_ Flash(SPI)
uPD70F3622_Code_ Flash(SPI)
uPD70F3623_Code_ Flash(SPI)
uPD70F3624_Code_ Flash(SPI)
uPD70F3625_Code_ Flash(SPI)
uPD70F3626_Code_ Flash(SPI)
uPD70F3627_Code_ Flash(SPI)
uPD70F3628_Code_ Flash(SPI)
uPD70F3629_Code_ Flash(SPI)
uPD70F3630_Code_ Flash(SPI)
uPD70F3631_Code_ Flash(SPI)
uPD70F3632_Code_ Flash(SPI)
uPD70F3633_Code_ Flash(SPI)
uPD70F3634_Code_ Flash(SPI)
uPD70F3635_Code_ Flash(SPI)
uPD70F3636_Code_ Flash(SPI)
uPD70F3637_Code_ Flash(SPI)
uPD70F3638_Code_ Flash(SPI)
uPD70F3639_Code_ Flash(SPI)
Renesas V850E2-FLURORTX
uPD70F3548/49/50 Data Flash
uPD70F3551/52/53_ Data Flash
uPD70F3554_ Data Flash
uPD70F3555/56_ Data Flash
uPD70F3557/58_ Data Flash
uPD70F3559/60_ Data Flash
uPD70F3570/71/72_ Data Flash
uPD70F3573/74/75_ Data Flash
uPD70F3576/77/78/79/80_ Data FIash
uPD70F3582/83/84/85_ Data _Flash
uPD70F 4000/01/02 Data_ Flash
uPD70F 4003/04/05 Data_ Flash
uPD70F4006_ Data Flash
uPD70F4007/08_ Data Flash
uPD70F4009/10_ Data Flash
uPD70F4011/12_ Data Flash
uPD70F3548_ Code_ Flash
uPD70F3549_ Code_ Flash
uPD70F3550_ Code_ Flash
uPD70F3551_ Code_ Flash
uPD70F3552_ Code_ Flash
uPD70F3553_ Code_ Flash
uPD70F3554_ Code_ Flash
uPD70F3555_ Code_ Flash
uPD70F3556_ Code_ Flash
uPD70F3557_ Code_ Flash
uPD70F3558_ Code_ Flash
uPD70F3559_ Code_ Flash
uPD70F3560_ Code_ Flash
uPD70F3570_ Code_ Flash
uPD70F3571_ Code_ Flash
uPD70F3572_ Code_ Flash
uPD70F3573_ Code_ Flash
uPD70F3574_ Code_ Flash
uPD70F3575_ Code_ Flash
uPD70F3576_ Code_ Flash
uPD70F3577_ Code_ Flash
uPD70F3578_ Code_ Flash
uPD70F3579_ Code_ Flash
uPD70F3580_ Code_ Flash
uPD70F3581_ Code_ Flash
uPD70F3582_ Code_ Flash
uPD70F3583_ Code_ Flash
uPD70F3584_ Code_ Flash
uPD70F3585_ Code_ Flash
uPD70F4000_ Code_ Flash
uPD70F4001_ Code_ Flash
uPD70F4002_ Code_ Flash
uPD70F4003_ Code_ Flash
uPD70F4004_ Code_ Flash
uPD70F4005_ Code_ Flash
uPD70F4006_ Code_ Flash
uPD70F4007_ Code_ Flash
uPD70F4008_ Code_ Flash
uPD70F4009_ Code_ Flash
uPD70F4010_ Code_ Flash
uPD70F4011_ Code_ Flash
uPD70F4012_ Code_ Flash
SPC560/SPC56A
SPC560B40Lx_ DATA flash
SPC560B50Lx_ DATA flash
SPC560B54Lx_ DATA flash
SPC560B60Lx_ DATA flash
SPC560B64Lx_ DATA flash
SPC560C40Lx_ DATA flash
SPC560C50Lx_ DATA flash
SPC560P44Lx_ DATA flash
SPC560P50Lx_ DATA flash
SPC564P54Lx_ DATA flash
SPC564P60Lx_ DATA flash
SPC560B40Lx_ CODE_ flash
SPC560B50Lx_ CODE_ flash
SPC560B54Lx_ CODE_ flash
SPC560B60Lx_ CODE_ flash
SPC560B64Lx_ CODE_ flash
SPC560C40Lx_ CODE_ flash
SPC560C50Lx_ CODE_ flash
SPC560P44Lx_ CODE_ flash
SPC560P50Lx_ CODE_ flash
SPC560AP54Lx_ CODE_ flash
SPC560AP60Lx_ CODE_ flash
SPC560Bxx_ code_ flash test
SPC560Bxx_ code_ flash_ shadow
SPC560Bxx_ test flash. _block
SPC560Cxx_ code_ flash test
SPC560Cxx_ code_ flash _shadow
SPC560Cxx_ test flash_ block
SPC564
SPC564A70_ code_ flash
SPC564A80_ code_ flash
SPC564Axx_ Shadow A
SPC564A80_ Shadow B
ST7
ST72321(R/AR)6
ST72F321(R/AR)6
ST72321(R/AR/J)7
ST72F321(R/AR/J)7
ST72321(R/AR/J)9
ST72F321(R/AR/J)9
ST72521B(R/AR)6
ST72F521(R/AR)6
ST72521B(M/R/AR)9
ST72F521(M/R/AR)9
ST10
ST10F168
ST10F168> ST24C64
ST10F269
ST10F272
ST10F275
ST10F276
ST10F280
TEXAS Instruments
TMS370C002A
TMS370C010A
TMS370C012A
TMS370C020A
TMS370C022A
TMS370C032A
TMS370C040A
TMS370C042A
TMS370C050A
TMS370C052A
TMS370C056A
TMS370C058A
TMS370C256A
TMS374C003APQQ
TMS374CD13APQQ
ZGS 001
A 164 540 56 62
MC9S12DT256>EEPROM
MC9S12DT256-FLASH
MC9S12DT256- External FLASH(Am29F400BT)
A 169 540 69 45
MC9S12DT256>EEPROM
MC9S12DT256-FLASH
MC9S12DT256- External FLASH(Am29F800BT)
A 220 445 19 00
MC9S12DT256>EEPROM
MC9S12DT256-FLASH
MC9S12DT256- External FLASH(Am29F800BT)
A 211 445 25 00
MC9S12DT256>EEPROM
MC9S12DT256-FLASH
MC9S12DT256- External FLASH(Am29F800BT)
A 211 540 25 45
SC68HC912DG128A->EEPROM
SC68HC912DG128A->FLASH
SC68HC912DG128A->Extemal FLASH[29F400TC]
A 211 540 29 45
SC68HC912DG128A->EEPROM
SC68HC912DG128A->FLASH
SC68HC912DG128A->Extemal FLASH[Am29F400BT]
A 211 540 35 45
MC9S12DT256->EEPROM
MC9S12DT256->FLASH
MC9S12DT256- >External FLaSH[Am29F800BT)
TV
BMW
E60 E63 E64
Other ECU
Audi
BCM2_ uPD70F3381 Code Flash
BCM2_ uPD70F381_ Data_ Flash
BMW
FRM EEE
FRM_ P-FLASH
Chevrolet
AVEO ECM ECU Code Flsh
Chrysler-Dodge-Jeep
BCM.GRAND CHEROKEE WK 2014 Fash
BCM-GRAND CHEROKEE _WK_ 2014 _Shadow
Chrysler TIPM_ Flash
Chrysler TIPM_ Data Flash
NCG3-MPC565
NCG3-MPC565-Configuration-A
NCG3-MPC565->Configuration-B
NCG3-MPC565-M95080
NCG4-MPC5554_ Code_ Flash
NCG4-MPC5554_ Shadow
NCG4-MPC554-ST95320
Citroen
ECU_ SAK-XC164CS-32F
ECU_ XC164CS-32F->24C16
FORD
FORD BCM CODE Flash
FORD_ BCM DATA Flash
GM ECU
SAF-XC164CS-16F
HONDA Bikes
CB650F 2015 Code Flash
CB650F 2015_ Data Flash
Renault Clio III
EPS ST10F269
EPS_ ST10F269- 24C16
EPS_ XC164CS-32F
EPS_ XC164CS-32F- 24C16
SUBARU
TCM 2009 64F7055F
TRIUMPH
Chassis_ Control Unit Flash0
Chassis_ Control Unit Flash1
Chassis_ Control Unit Flash2
VW
VW GearBox R4F70580S
XP8000E_ XET256
XP8000E XET256 EEE
XP8000E XET256_ P-FLASH
VOLVO
VOLVO_ CCM Flash
VOLVO_ ECU_ 64F7055
VOLVO_ ECU_ R4F70580