1. Launch X431 V PRO Automotive Diagnostic Tool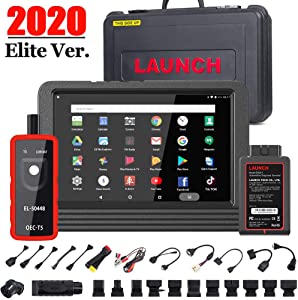 Professional mechanics looking for a fully-functional scan tool will love the Launch X431 V Pro. It includes more than 30 repair functions, along with ECU coding capability for tuning or remapping the engine computer.
The diagnostic functions on the Launch X431 V Pro are extensive, too. The inclusion of functional testing is especially helpful for speeding up your repairs. It can also perform full-system diagnosis, read sensor data, and trouble codes from system other scan tools neglect.
Professional mechanics also need a scan tool that will work with various vehicles, and the broad compatibility of the Launch X431 V Pro satisfies that need. With an 8″ touch screen and an advanced Android operating system, it's easy to access all the data and functions you're looking for on this impressive scanner.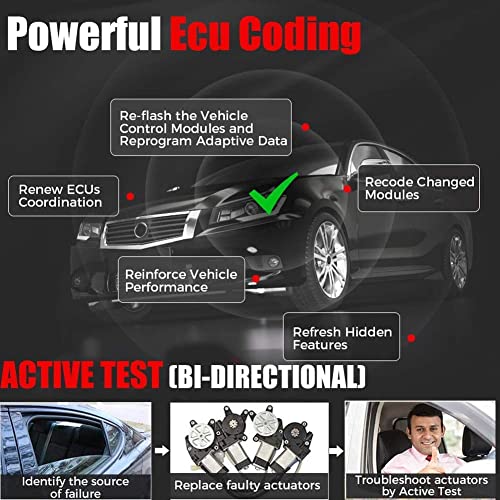 Pros
Full-system diagnosis with bi-directional control
Built-in camera
Supports ECU coding and adaptation
Over 30 reset and repair functions
Wi-Fi enabled for one-key updates
Coverage for more than 10,000 vehicles (150+ brands)
Cons
Higher cost
Updates are only free for the first two years
Verdict: Advanced functions like bi-directional control and ECU coding make the Launch X431 V Pro the ideal automotive scanner for a professional mechanic.
2. Launch CRP129E Car Diagnostic Scanner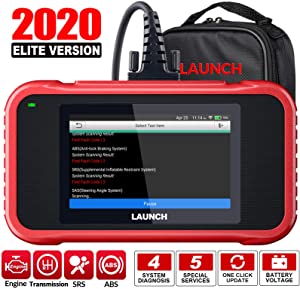 The diagnostic functions on the Launch CRP129E make it an excellent choice for advanced home mechanics or as a travel diagnostic tool for professionals. It can read sensors and trouble codes from the four major systems, in addition to performing useful functions like real-time battery monitoring, oxygen sensor tests, and more.
We also appreciate that you can record and export data you read on the Launch CRP129E. The automatic health report function is a fast, easy way to get a complete picture of your car's health at a glance.
Along with diagnostics, the CRP129E also supports essential repair functions. Since you can reset the tire pressure or throttle position in your home garage, that opens up more options for at-home repairs and saves you money at the mechanic.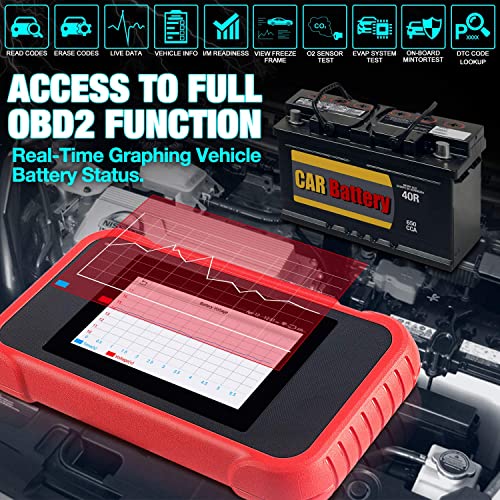 Pros
4-system diagnosis (engine, transmission, SRS, ABS)
Record and graph live data from up to 10 PIDs simultaneously
Five reset services, including oil light and TPMS
5″ HD touchscreen is easy to read and navigate
Broad compatibility (57+ brands supported)
Free lifetime upgrades
Cons
Repair functions limited for a professional tool
No bi-directional control
Verdict: The 4-system diagnosis and reset functions of the Launch CRP129E make it an excellent choice for advanced home mechanics and professionals on the go.
3. BlueDriver Bluetooth Professional OBD2 Scanner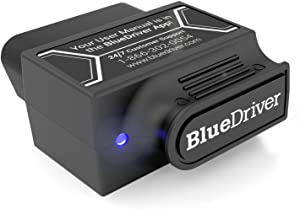 The BlueDriver system is aimed at everyday car owners and drivers. It can read engine codes from any OBD2-compatible vehicle, which is most of the cars and trucks on the road today. For select manufacturers, it also performs 4-system diagnosis (transmission, ABS, SRS, and engine). This auto scan tool is currently available for select model years of 13 manufacturers. This includes common brands like Ford and Toyota but leaves out some major names, notably Chevrolet and Jeep. If you're buying BlueDriver for its enhanced codes, double-check its compatibility with your car before you pull the trigger.
You don't have to be a repair expert to take advantage of BlueDriver. The Repair Reports function gives vehicle-specific suggestions and explains the meaning of trouble codes. Even advanced DIYers can benefit from this extra insight and make faster repairs with BlueDriver.
That makes it the ideal diagnostic tool for home mechanics of all experience levels.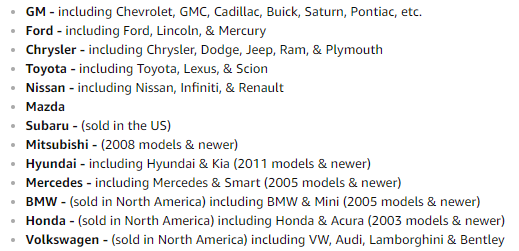 Pros
Allows continuous monitoring
Easy to install and use
Works with both Android and Apple devices
Repair Reports function provides verified fixes from certified mechanics
Customizable dashboard
Free and automatic updates
Cons
Enhanced codes only available on select vehicle models
No service or programming features
Verdict: The convenience of BlueDriver is its main advantage. It's the best car diagnostic tool for drivers who want to easily monitor their vehicle's performance.
4. Foxwell NT624 Elite OBD2 Automotive Scanner
Home mechanics looking for an automotive scanner that won't break the bank will love the Foxwell NT624. It's a comprehensive car diagnostic tool that can read codes from all electronic modules. It's reliable across vehicle models, too, performing just as well on US brands like Chevy and Ford as it does on Japanese vehicles like Nissans, or European brands like BMW.
Home mechanics will also love the quick set-up. You can start using it right out of the box and running scans is easy, no matter your experience level. Updates are easy, too, and you'll get them free for life, no need for paid subscriptions. It basically pays for itself the first time it spares you a trip to the mechanic, making it a smart investment for everyday car owners.

Pros
Affordable price
All-system diagnosis
Free updates for life
Includes the 2 most common reset functions (oil light and SBC/EPB)
Compatible with 61 vehicle manufacturers
Cons
Repair and service functions too limited for professional mechanics
Verdict: Home mechanics looking for an affordable all-system auto scan tool should buy the Foxwell NT624 Elite. It reads and clear codes from all electronic modules, giving drivers a complete picture of their car's health.
5. Autel MK808 Professional Diagnostic Testers for Cars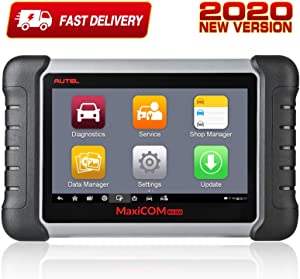 Autel is another top name in diagnostic scanners, and their MaxiCOM MK808 Scan Tool is one of the most affordable options with the full-system diagnosis you'll find. You can diagnose everything from the emissions to the headlights, and its fast, precise operation means you'll get that data quickly (and can trust it to be accurate).
The repair functions on the Autel MK808 are relatively comprehensive, as well. While it doesn't offer advanced coding and programming capabilities, it goes beyond an ordinary scan tool with features like DPF regeneration and BMS reset.
Professionals will also appreciate the design of the Autel MK808. Its sturdy housing is easy to grip and resists damage from drops and impacts, and the intuitive menu layout makes navigation a breeze.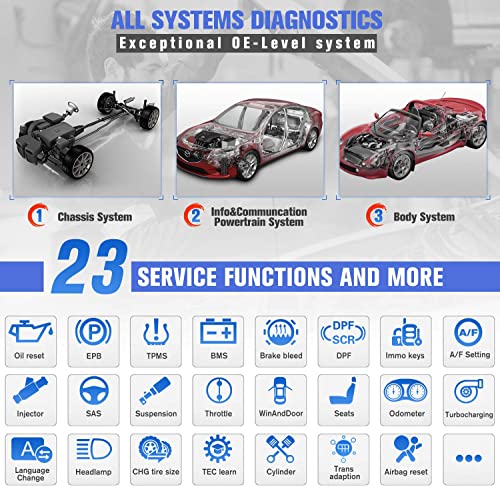 Pros
Full system diagnosis
Reset functions including TPMS, DPF, and BMS
Quad-core processor for accurate, fast diagnosis
Compatible with most vehicles from the US and Europe
Easy to navigate 7″ touchscreen
Great value for the included features
Cons
No programming or re-learning capabilities
Doesn't include active testing
Verdict: The Autel MK808 is an excellent mid-price option for repair professionals. While it lacks more advanced coding functions, its rugged, accurate diagnostics greatly value the money.
6. Launch X431 V+ Professional Automotive Diagnostic Scanner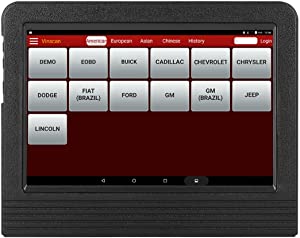 Professional mechanics who work on vehicles from around the world will get a lot of use out of the Launch X431 V+. It's compatible with more than 10,000 car makes—and it doesn't just perform basic OBD2 diagnostics, either. All-system diagnosis and advanced features like key fob programming make it an impressive all-in-one tool for any garage.
For most hobbyists, the Launch X431 V+ is more scan tool than you'll need. Since it's designed for professionals, non-experts may find the included instructions a bit confusing at first. Having said that, advanced DIY-ers will appreciate the range of reset functions and will find the tool intuitive to use, with a large built-in memory for storing vehicle information. It also comes with 2 years of free updates and costs about $400/year to update after that, so it has a lower ongoing cost than other professional automotive tools.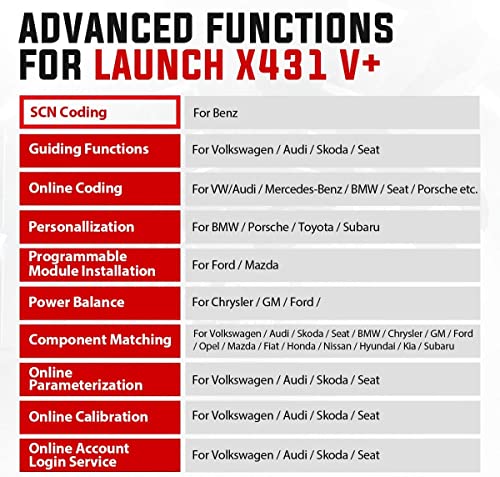 Pros
Bi-directional communication allows active testing
Supports key programming and ECU coding
Fast diagnosis with Auto-Detect
Wide range of reset and service functions
Compatible with more than 10,000 vehicle models
Optional Heavy Truck add-on
2 years free updates included
Cons
Some users have difficulty pairing to wireless OBD2 connector
Verdict: The Launch X431 V+ is the best value you'll find in professional auto diagnostic tools, offering the same robust diagnostic and programming functions as scanners that cost 4-5 times as much.
7. Autel MS906BT Automotive Diagnostic Tool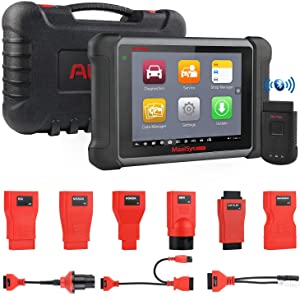 For professionals who do need advanced coding capabilities, the Autel MS906BT will meet your needs. It even includes key fob programming and a range of more than 20 other useful repair functions, which empowers you to make a wide range of repairs or even upgrade and tune vehicles.
With "active tests" and OE-level diagnostics, the Autel MS906BT gives you the power to accurately troubleshoot any engine issue. The MaxiFix community is a helpful resource here, too, giving you an easy source for proven repair advice.
Using the AUTEL MS906BT is easy, too, thanks to its wireless capability. This compact and portable diagnostic scanner might not come cheap, but it's worth the investment for professionals who need broad functionality and vehicle compatibility.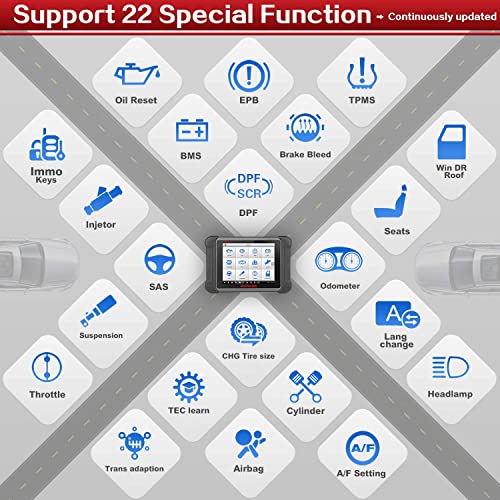 Pros
Supports ECU coding and adaptation
Wireless operation with a range of over 150 feet
23+ service functions including IMMO key programming
Full-system diagnosis with bi-directional testing
Knowledgeable online community for extra repair advice
Compatible with 80+ manufacturers from the US, Asia, and Europe
Compact, portable design
Cons
Most expensive option on the list
Verdict: The Autel MS906BT supports a wide range of repair and diagnostic functions, including bi-directional testing and key fob programming. Its powerful performance and its easy operation and knowledgeable online community make it worth the higher purchase cost for repair professionals.
8. Launch CRP129X Diagnostic Tool for Cars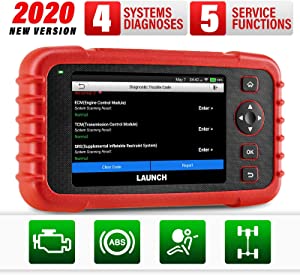 The Launch CRP129X is very similar to the CRP129E above. They're identical when it comes to diagnostic and repair functions. You'll get the same 4-system scanning, reset procedures, and diagnostic health reports from the CRP129X.
Where the CRP129X exceeds the CRP129E is in its design and performance. It has a built-in Wi-Fi connection that allows you to update the device without connecting it to a computer, and you can do so by clicking a single button. Updates are free for life, too, so you never need to worry about the scanner going out of date.
The design of the interface on the Launch CRP129X is also slightly better. A higher-resolution screen is easier to read even in low light conditions. Also, it includes a keypad navigation option in addition to the touchscreen, letting you use it more easily when your hands are dirty from making repairs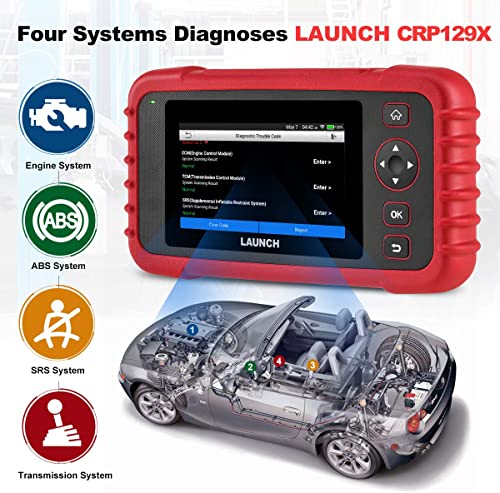 Pros
The option of navigating with keypad or touchscreen
4-system diagnosis with full OBD2 mode support
Record and print sensor data
Battery monitoring and voltage test
Includes TPMS reset and throttle adaptation
Compatible with 57+ brands
One-click updates through Wi-Fi are free for life
Cons
Doesn't support full functions for all manufacturers
No coding or adaptation functions
Verdict: The Launch CRP129X adds one-click Wi-Fi updates to the robust functionality of the Launch CRP129E, making it a more convenient option for both home mechanics and professionals.
9. Autel MaxiCOM MK808BT Professional Car Diagnostic Tool
The Autel MaxiCOM is a comprehensive diagnostic tool for an experienced home mechanic. The menu layout is designed for quick access of the most often used diagnostics and features. It can diagnose and reset all dash lights, including the oil, ABS, and SRS systems, so it's very handy as a troubleshooting tool in a home garage. You'll also love how affordable the updates are. They're free the first year, and around $120/year after that.
The vehicle compatibility of the Autel MK808BT is broad but inconsistent. It can communicate with more than 80 vehicle manufacturers but not for all service functions. ABS bleed is one function many mechanics have issue with since it won't work consistently on common vehicles like Jeep Cherokees (along with other models). This is the main reason it's not recommended for all professional mechanics, along with the lack of active testing and ECU coding functions. It could work in small garages, but it's not as feature-rich as the two options above.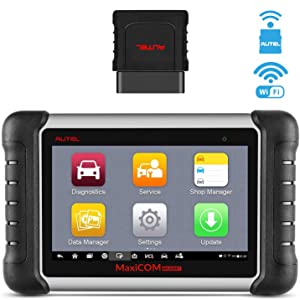 Pros
Diagnoses all vehicle modules
21 service functions, including IMMO reset and key programming
Option of wireless or hardline connection
Compatible with US, European, and Asian vehicles
Includes 1 year of free software updates
Excellent customer support through data manager
Cons
Not all functions available for all vehicles
No ECU coding capabilities
Verdict: The Autel MaxiCOM MK808BT is the best mid-range car diagnostic scanner and is suitable for small garages and advanced hobbyists.
10. Autel Maxisys Elite Professional Auto Diagnostic Tool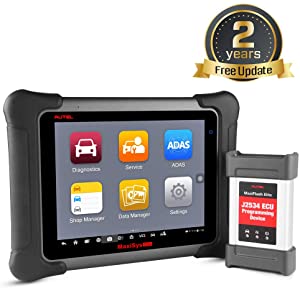 The convenience and flexibility of the Autel Maxisys Elite will be worth the investment for professional garages. It's able to wirelessly communicate with all OBD2-equipped vehicles and performs more tests and service functions than most scanners on the market.
The main complaint from professional mechanics about the Autel Maxisys is with its programming functions. They work great for BMW and Mercedes vehicles but aren't available for any other models, an issue for garages that work on a variety of cars. Accessing advanced functions also requires a paid subscription after 2 years, and it's not cheap at $1,200 a year. It's worth the expense for larger garages but may not be something you can afford in a smaller shop.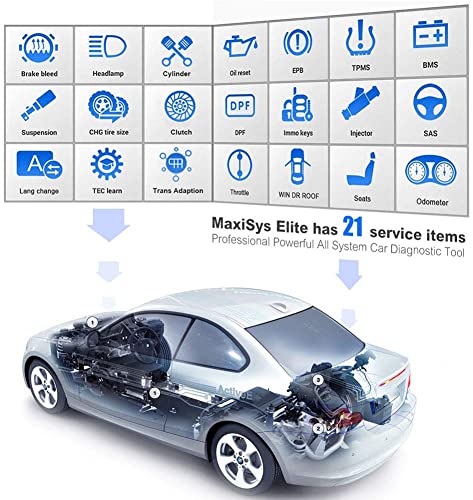 Pros
ECU programming for BMW and Mercedes
Easy to use touchscreen interface
Built-in Wi-Fi
Wide vehicle compatibility
Efficient diagnosis of complex vehicle issues
Allows performance enhancement and ECU customization
Includes 36+ service functions
Cons
Higher price point
$1,200 Autel subscription required to update after first 2 years
Verdict: The Autel Maxisys Elite belongs in a professional garage. It's capable of diagnosing, servicing, and customizing most vehicles a customer brings in.