We now have PIWIS II Wifi for Porsche OEM Wireless Solution Released!
PIWIS II Wifi for Porsche OEM Wireless Solution Released! The wifi solution is 100% OEM as dealership ones, you can choose both USB (LAN) connection and Wireless (WLAN) function, also the wifi singal is really strong, which over 30 meters strong singal.
The product descprtion page please click here>>
If you want buy PIWIS II WIFI with laptop, please click here>>
PIWIS II WIFI
For the piwis ii wifi settng, firstly you need connect the USB cable to laptop, then setting in [VCI Config] by inputing the SSID and Password of router.
A prerequisite for using wLAN is the availability of a suitable infrastructure. The workshop safety
guidelines must also permit the use of radio networks.
Connect the VCI to the PC using the supplied USB cable and start the VCI configuration software.
This can be accessed via the relevant link in the basic software.
The necessary setup steps are described separately in the section entitled wLAN configuration.
In order to establish a wLAN connection, the USB connection must be removed once
configuration has been completed successfully.
This is because once established, the USB connection is always active.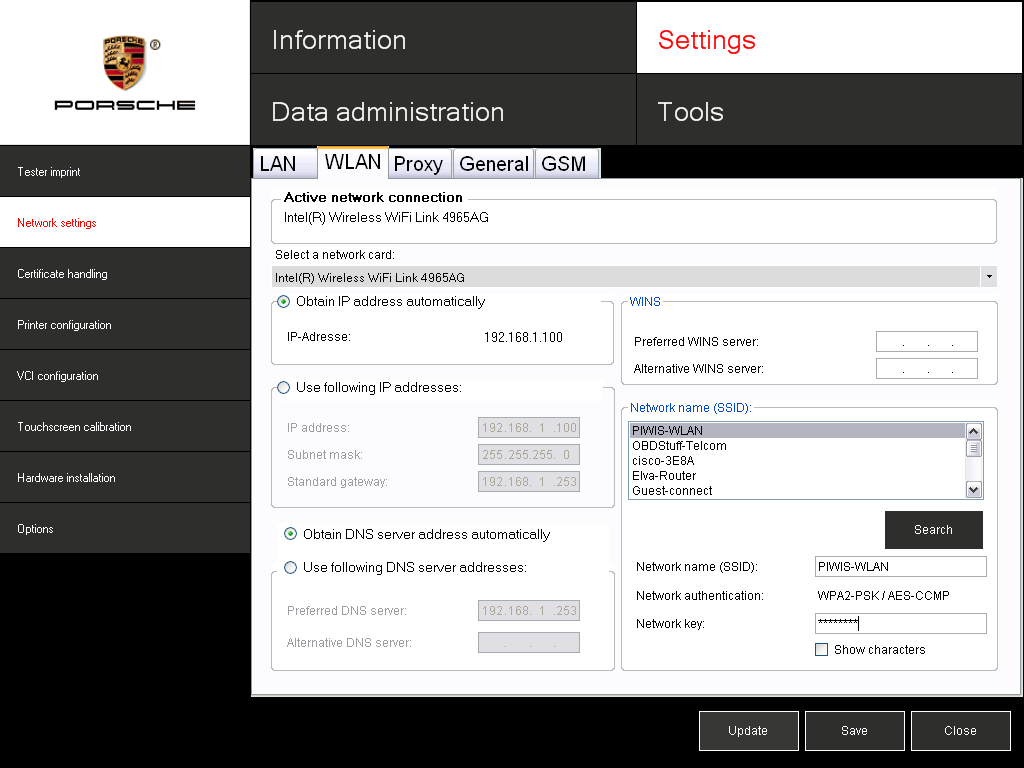 PORSCHE PIWIS TESTER  II WIFI laptop connection
TIPS FOR CONFIGURING THE PIWIS II WIFI ROUTER
Only use IP addresses approved for local operation (e.g. 192.168.x.x) in the local wLAN/LAN
Example:
Network: 192.168.1.0, subnet mask 255.255.255.0
• Addresses that can be used: 192.168.1.1 up to 192.168.1.254
• Router address (gateway): 192.168.1.254
• Client addresses (e.g. VCI, laptop): 192.168.1.1 up to 192.168.1.100 (max. 100 participants)