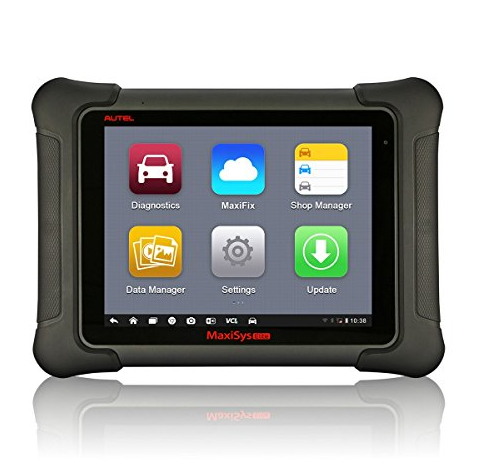 Are you a Professional Diagnostic Tool, a trained car technician, or a car enthusiast? Well, here's an amazing tool for you that can make your day-to-day job much easier and hassle-free.
For your reference, here's a brief introduction of an innovative and advanced automotive scanner i.e. Autel Maxisys Elite.
Designed by an industry-leading brand, it features to be a fully functional OBD2 vehicle scanner. It offers an extensive range of features and functionalities so that you can easily and quickly fix all car-related problems. For example, it lets you perform advanced ECU coding.
Furthermore, it allows you to smoothly perform all of the workshop operations. Starting from keeping vehicle records and data files to storing customer information, the device will help you organize all the details.
In addition to this, it is one of the most reliable tools that are currently available on the market. Not only it confers a slew of advanced features, but also it will be a one-stop solution for all your needs
Important Features of Autel Maxisys Elite
1.Compatibility and Vehicle Coverage
This diagnostic scanner code reader offers an extensive vehicle coverage. It is compatible with more than eighty US, European, and Asian makes and models.
2.Fast and Smart
The device is equipped with the latest 1.8GHz Quad-Core Processor. As a result, it offers you a lightning fast operation speed with a quick diagnosis.
The best part is — the bootup time of this device is less than 20 seconds. Thus, the product can truly give you a wonderful diagnostic experience.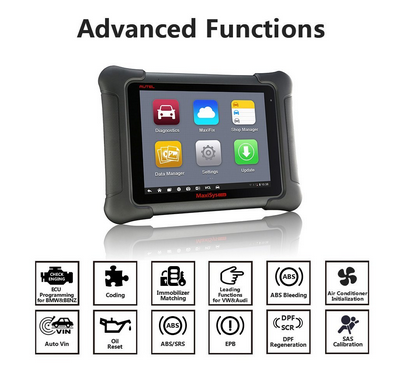 This smart car diagnostic tool also comes with a bunch of excellent functions. The list of this advanced functions includes One-Click Upgrade, automatically read VIN, and access to Autel Cloud Technology.
3.Mobility and Ease of Use
This diagnostic scanner has an exceptional OE-Level functionality. It works perfectly on most OBD1 and OBD2 protocols. Other than that, it comes with an enhanced wireless connectivity feature.
This feature lets you connect the device to Android tablets for greater mobility and ultimate ease at work.
4.Advanced Functionalities
This diagnostic scanner will help complete ECU programming on various BMW and Benz vehicle models. Additionally, it offers you "Coding function" so that you can perform coding and programming on the complex control modules of a vehicle.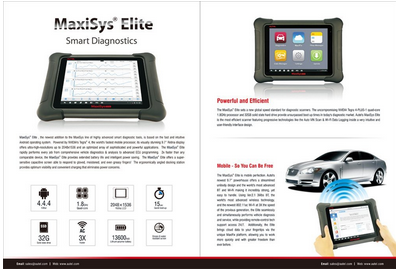 Other notable functionalities of this gadget include anti-theft matching, SAS reset, tire pressure reset, injector programming, DPF reset, and throttle matching etc.
5.Online Programming
With this powerful tool, you have the provision of performing online ECU programming. This feature is undoubtedly considered to be one of the most valuable and worthy functions.
Online Programming feature certainly helps professional DIYers and mechanics to troubleshoot and deal with complex vehicle problems. All you'll need to carefully follow step-by-step instructions to solve the issues.
6. Hardware Configuration
The model is powered by the world's fastest and most efficient mobile processor i.e. NVIDIA's Tegra" 4. Also, it comes with a visually stunning, sharp, and bright Retina display of 9.7-inches. This diagnostic scanner is bound to work as fast and effective as possible.
By purchasing this device, you will have access to the MaxiFix Platform. The platform allows you to collaborate with other professional technicians. Additionally, it gives you access to a comprehensive database diagnostic tips, troubleshooting tricks, repairing procedures, and more.
8.Automatic Software Update
This automotive OBD2 scanner will receive automatic software updates, along with real-time push message notifications. This process will periodically upgrade your device and make it up-to-date and compliant.
Plus, you can also receive technical support assistance whenever you need. For this purpose, you need to make a direct contact with the technical assistance team of Autel.
9.Ergonomic Design
The model features an ergonomic design. It comes with a rubberized outer protection for maximum longevity. Also, it has a superior rugged internal housing.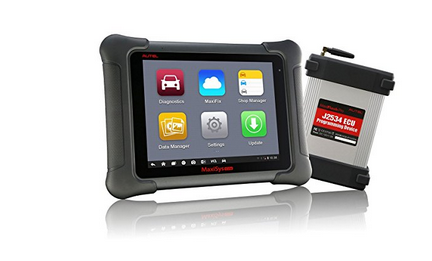 Major Pros
Ergonomic design
Offers advanced functionalities
Features 9.7-inches bright retina display
Easy to use
Easy to handle
Fast, quick, and efficient
A superior vehicle coverage
Cons
It does not offer ECM reprogramming (supports only ECU coding) for GM