As one of the most versatile OBDII diagnostic scan tools on the market, MK808 may have stunned you with its extensive feature lists and great features. Going through all of this information and making a purchasing decision might be difficult. To help you get to know MK808 better, we have collected 15 frequently asked questions and provided comprehensive answers. Here is everything you need before ordering.
1. What's new in Autel MK808 in 2022?
Autel MaxiCOM MK808 2022 has expanded its service reset range up to 32 functions. IMMO Key (*ONLY available for Asian vehicles with inferior anti-theft systems.) ABS brake bleed and airbag reset, oil reset, reset parking brake pads after replacement, DPF, BMS, SAS calibration, etc. Service reset function menus vary by vehicles make, model, and year.
2. What vehicles does Autel MK808 support?
Autel MaxiCOM MK808 2022 has extended its vehicle coverage, especially of GM cars.
It delivers all the basic OBDII functions advertised, and clears tricky manufacturer trouble codes. Also, you can use the scanner to run advanced professional functions on 65 brands of US, EU, and Asian-made car models with OBDII systems, listed below:
Europe:
Benz, Sprinter, BMW, Fiat, LandRover, Maserati, Opel, Peugeot, Porsche, Lancia, LT3, Maybach, Mini, Seat, Skoda, Vauxhall, Volkswagen CV, Renault, Saab, Smart, Volvo, Volkswagen, Abarth, Alfa, Audi, Bentley, Bugatti,  Citroen, Dacia, Ford, Jaguar, Lambor Ghini  (Utilizes new Auto VIN ID Tech to automatically identify the vehicle's make, model, and year)
Asia:
Acura, Daewoo, Daihatsu, Honda, Hyundai, Infiniti, Isuzu, Kia, Lexus, Maruti Suzuki, Mazda, Mitsubishi, Nissan (also in America), SsangYong, Subaru, Suzuki, Toyota, GTR, Scion, TATA, Mahindra
America:
Chrysler, Ford, GM, Dodge, Jeep
3. How to use Autel MK808 to diagnose vehicles?
https://blog.obdii.shop/how-to-use-autel-mk808-to-diagnose-vehicles/
4. Does MK808 support Bluetooth?
No, it doesn't. If you are looking for a scanner supporting Bluetooth or other functions, contact VXDAS customer service to get your customized purchase plan.
6. Can Autel MK808 program ABS modules?
Yes, MK808 can program a new ABS module. For specific vehicle service reset function coverage, contact VXDAS customer service to get it free.
5. Can Autel MK808 program keys?
Yes, you can program keys with MK808: add a new key, disable lost key, etc. But if you require more professional key programming, VXDAS.com have better solution for you.
7. Does MK808 support coding?
No, it doesn't. If you are looking for a scanner capable of coding or other advanced services, contact VXDAS.com to get your customized purchase plan.
8. Is Autel MK808 bi-directional?
No, it doesn't have bi-directional capability. As an entry-level model, MK808 features a user-friendly operational system, catering to all groups of auto technicians and enthusiasts – from beginners to advanced professionals.
9. How to register Autel MK808 without trouble?
Follow the guide below for easy registration.
How-to-register-Autel-MK808-without-trouble
* Please enter your Email to make sure you can retrieve the password if you forget, or receive the new password after necessary reset.
10. Why can't I change MK808 Language after registration?
It's recommended that you choose the language you usually use during registration. Extra steps are needed if you want to change it afterwards.
In that case, please follow the guide below step by step:
Why-can't-I-change-MK808-Language-after-registration
You can change the MaxiCOM MK808 default language English to German, Spanish, Portuguese, Dutch, French, Italian, Korean, Japanese, Russian, Polish, Swedish, and Chinese.
11. Should I download all software when updating MK808?
Select appropriate car software to update. A full download will occupy much of your memory space (64 GB). Extension of memory is supported (up to 32 GB).
12. Can I download software for Autel diaglink for a Macbook?
No, Autel MaxiCOM MK808 is an Android tablet and Autel diaglink can only work with Windows.
13. How can I upload the error during the diagnostic process?
When you come across a problem, press the data logging icon.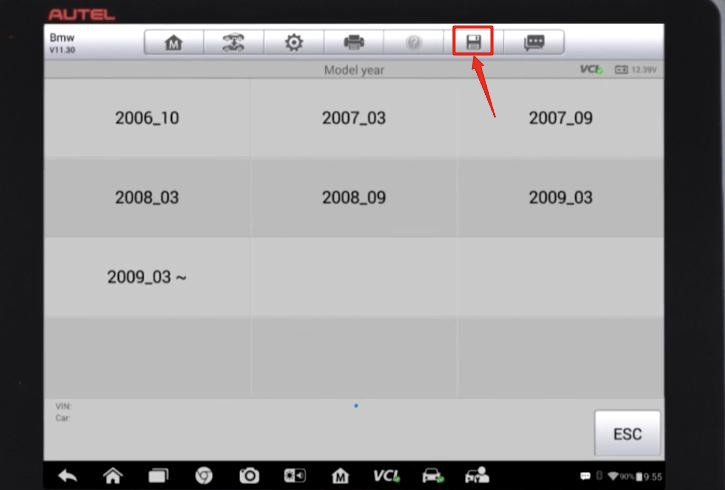 Choose in which step you met the problem and press "OK".
Describe details and vehicle information.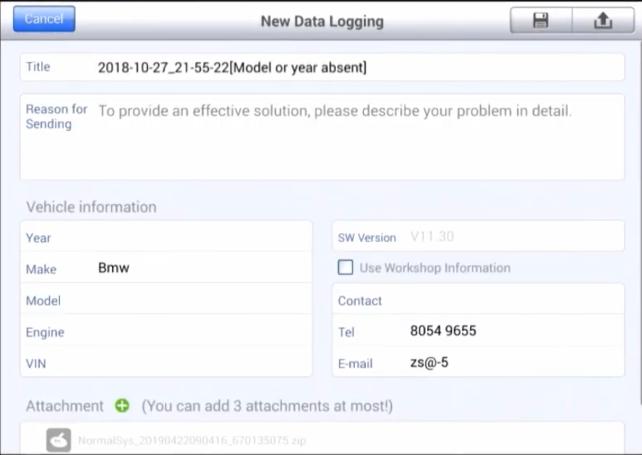 Then press "Upload" button to send the data log.


Or we can press "Save" button to save the data log.

Back on the function menu, press
Data Manager >> Data Logging >> History >> (The data log you want to upload) >> Upload
14. Can Autel scanners work without subscription?
Once you purchase an Autel scan tool, you can enjoy 1 year of free updating. Once expired, you can choose to purchase a subscription or not. If you don't subscribe it, you can still use this scanner with the current software version. Yet some functions may be affected if they require access to Autel's cloud server for information.
A MaxiCOM MK808BT update costs $130 USD per year. Your purchase is 100% risk-free as you can return the scanner for replacement or full refund within 30 Days and it's protected from defects for 12 Months. 12 months free online update is available for the latest bug fixes, newly added car models software and functions.
15. What is the difference between Autel MX808 and MK808?
Which one should I choose?
Autel MaxiCOM MK808 and MaxiCheck MX808 share a great similarity in functions and features. Yet they still differ slightly in the following aspects.
1. Distribution
The main difference between them is that MK808 is the online e-commerce version but Autel MX808 is the offline version. MK808 is only available for online dealers, while MX808 is sold in offline store by local dealers. Yet the 2022 newest MX808 enjoys both Autel online and offline tech support and after-sales service.
2. Function & permission
In order to distinguish different distributors, Autel company has customized different functions and permissions for different versions of products. The e-commerce online version of Autel MK808 does not support the function of Auto Auth, a Chrysler 12+8 bypass security gateway cable is needed to diagnose the Chrysler models from 2018 and newer. But Autel is optimizing the FCA function for the e-commerce version model and adding the functions similar to the offline version model.
3. Operation
These two scanners make different sounds under operation: MK808 beeps while MX808 buzzers. They also differ in operating and storage temperature, as MX808 can withstand a wider temperature range. MK808 should run between 0 and 55°C (14 to 131°F), while MX808 can be operated between -10 and 60°C (14 to 140°F); MK808's storage temperature is -20 to 60°C (-4 to 140°F), while MX808's is -20 to 70°C (-4 to 158°F).
4. Size & weight
MX808 (15 x 11.6 x 4.8 inches) is smaller than MK808 (15 x 11.7 x 4.7 inches). The former (2.5 kg) is also lighter than the later (2.6kg). Thus MX808 is relatively more portable than MK808.
Autel MaxiCOM MK808: Verdict
Overall, Autel MK808 is an extremely user-friendly scan tool with a vast array of maintenance services.
Thanks to its intuitive user interface and easy installation of software and hardware, you can effortlessly complete professional diagnoses even if you've never used an auto scanner before. With faulty code description right on the screen, you won't bother to consult the DTC for maintenance suggestions during diagnosis.
What's more, by tapping the Quick Link application, you can access Autel's official website and other popular service websites. These sites abound with auto information and repair data, and also include forums, video training, and expert consultation.
If you are running your own auto repair business:
MaxiCOM MK808 will also be your perfect companion. The Shop Manager application will help you manage the workshop information, such as customer profiles and test vehicle history records. You can also access Data Manager to store, print, and review diagnostic reports and auto maintenance information. With the assistance of MK808, you're able to streamline your workflow and win more customers.
Hopefully, this article has cleared up some of your doubts about Autel MaxiCOM MK808.