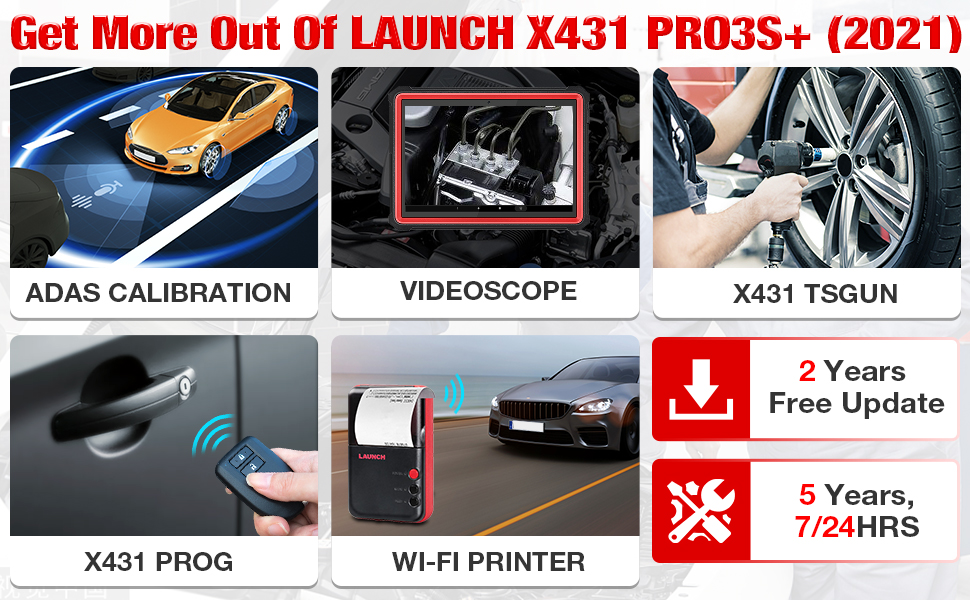 2021 ADVANCE FUNCTION: SUPPORT EXTENSION MODULES(need to buy additionally)To diagnose car comprehensively with LAUNCH X431 PRO3 S+
Videoscope (Mainly applied to check unseen parts of engine, fuel tank, braking system, etc.)
TSGUN (activate all sensors, tpms relearn, program only Launch Sensors)
X431 PRO G(IMMO For VAG Group Above 3.5)
X431 Heavy Duty Module (diagnose gasoline vehicles & 24V Diesel Trucks)
X431 ADAS Moblie/ADAS PRO (calibrate a wide range of camera-based & radar-based driver assistance systems)
X431 Printer (Print out diagnostic data/ reports.)
Extensive Vehicle Coverage – 200000+ Cars supported:
*   Aisa: Compatible with (JAPAN) Acura, Daihatsu, Honda, Infiniti, Isuzu, Jpisuzu, Lexus, Mazda, Mitsubishi, Nissan, Nissan GTR, Scion, Subaru, Subaru, Suzuki, Tlisuzu, (KOREA) Daewoo, Hyundai, KIA, Samsung, Ssangyong; (CHINA) Baic, Beijing, Changan, Changan-Ford, Changcheng, Changhe, Chsuzuki, DF Peugeot, DF Honda, DF Nissan, DF XK, Flyer,BYD, Fukang, Futian,Foton, Geely, Gonow, GZ Honda, Hafei, Haoqing, HC BMW, Hmada, Huachen, Isuzu, JMC, Jacty, Jianghuai, Jiao, Jinlong, Joylong, Lifan, Liuwel-TY, Luxgen, NJ Fiat, Qirul-TY,chery, Qoros, Saicmg, Spark-TY, Trumpchi GAC, Weili, Xiaokang Dongfeng, Xili,Faw Tianjin, Xinkai, YQ Mazda, Zhongshun, Zhongtai, Zotye, Zhongxing;(INDIA)Mahindra, Maruti, Tata;(MALAYSIA) Perodua, Proton, (IRAN)MVM
*   Europe: Compatible with Vaz, Porsche, Maserati, BMW, Seat, VW, Audi, Citroen, Landrover, Smart, Renault, Skoda, Sprinter, Land Rover, Benz, Fiat, Opel, Volvo, Peugeot, Ferrari, Saab, Gaz, DR
*   USA: Compatible with Gm, USAFord, Chrysler, Willy; Australia: Compatible with Austford, Holden; Brazil: Compatible with BXFiat, BXGM
[24 languages supported]: English, French, Spanish, German, Russian, Korean, Japanese, Portuguese, Italian, Polish, Dutch, Hungarian, Finnish, Simplified, Czech, Turkish, Greek, Arabic, Danish Persian, Romanian, Serbian, Swedish, Chinese Traditional.Full localized 24 Languages free to use to choose your native language without encountering any sort of language barrier.
All System Bidirectional Scan Tool – LAUNCH X431 PRO3S+(Bigger,Bidirectional,Better )
With this diagnostic tool's Active Test, you can output the command into the ECU in order to turn on/off actuators, to find faults in the subsystems of your car effortlessly, without using the vehicle's control: Turn on the radiator fan | Modulate the throttle | Open/close windows | Operate mirrors | Turn on/off the lights | Turn on/off the sound horn | Test door lock … (Available test varies by the vehicle manufacturer, year, and model.)
A Master of ALL — LAUNCH X431 PRO3S+
To diagnose car comprehensively, LAUNCH X431 PRO3 S+ scan tool can read DTCs and data streams, perform active test, Coding for ALL systems. For instance: Engines/Auto Transmission/Airbags/Immobilizer/ECU Coding/ABS/Cruise Control/Instruments/ Self Leveling Suspension systems/Seats/Doors/Gateway/Steering Angle/Air Suspension/Body Systems/Electronic Power Steering & Motor Assisted/Power Steering/Tyre Pressure/Rain Sensors/4WD System/Stabilizer/Intelligent Parking Assist/Door Motors/Audio Systems/Air Conditioning/Tiptronic/Anti Theft/Soft Top/Headlamp Leveling/Automatic Clutch/ DPF Reset/Electric Windows/Plip Programming/Heated Rear Window/Xenon Headlights/Wash Wipe/Fuel Burning Heater/Transfer Box/Seat Memory/Oil Life Service Reset/Sliding Doors/Electronic Throttle/Navigation System/Rollover Sensor/Cruise Control/ Multi Function Steering Wheel/Aux Heating/Electronic Parking Brake/Clutch Electronics, etc.