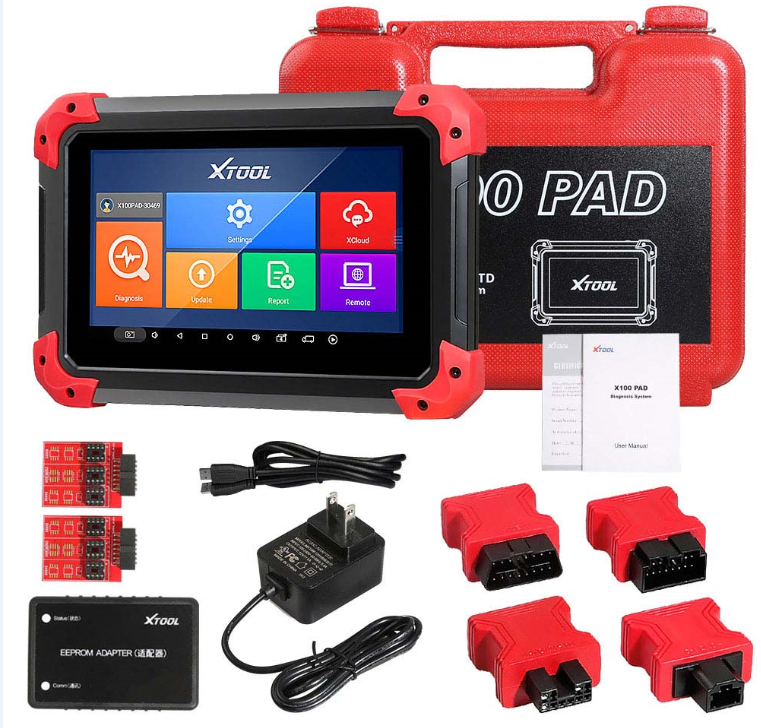 Car key programmers are an important part of any mechanic's tool set, whether you're a professional or a DIY repairman. But, there are a lot of key programmer options on the market. Some key programmers are single-purpose, focused exclusively on generating new keys. Others include a range of diagnostic and service functions so they're helpful all-in-one tools for any garage.
What is a Car Key Programmer?
Car key programmers allow mechanics to program an electronic key to work with your car. While keys can be obtained from a locksmith, mechanic, or dealership, they will need to be programmed either way. Having one in your repair kit can help save you the time and hassle of getting a new key from a locksmith if yours is lost or broken.
How We Evaluated Our Top Car Key Programmers
Key programming efficiency – Programming speed and capability is the most important feature of key programmers. We made sure to evaluate every programmer on this list for overall speed and ability.
Diagnostic ability – Diagnostics are a useful feature for repairmen at any skill level. Many OBD diagnostic scan tools have key programming capabilities, but these tend to be pricey. We made sure to include a range of key programmers, from advanced obd scanners to stand-alone key programmers, to help you find the right programmer for your needs.
User-friendliness – We know user-friendliness adds significant value to any tool in a repairman's toolbox. We evaluated each key programmer for overall ease-of-use and convenience.
Compatibility – Most car key programmers have limited compatibility and only work within certain systems. We made sure to feature key programmers with a range of compatibility levels.
Strength and weaknesses – For full transparency about the best and worst parts of each programmer, we've included a 'drawbacks' section within each review.
With the sheer number of car key programmers on the market, it is important to discuss which ones are the best. After all, key programmers come in a wide variety of price ranges and have individual features. Our top 5 key programmers currently on the market include:
Best Car Key Programmers of 2022
1 .Autool Xtool X100 PAD Tablet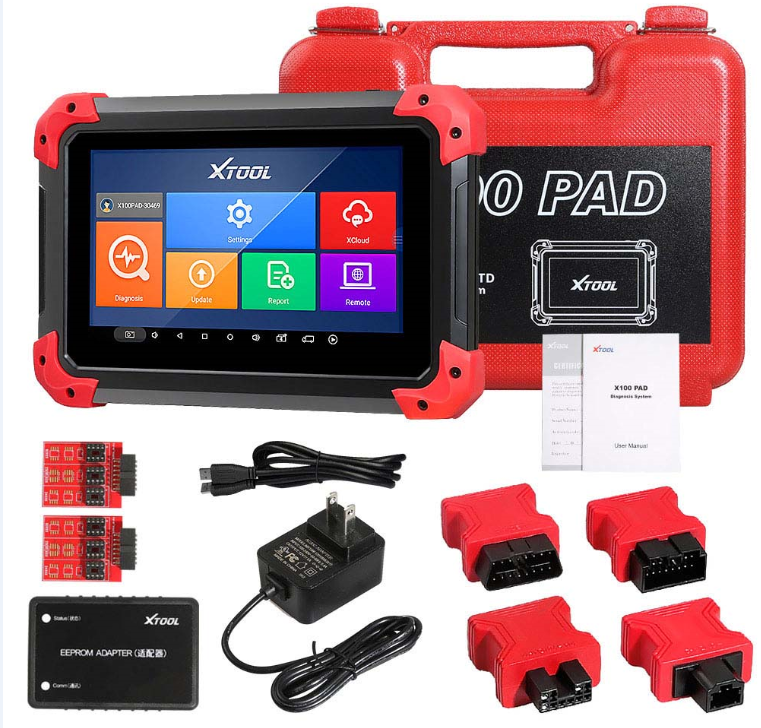 The Autool XTool X100 PAD Tablet is a great car key programmer for both professionals and home mechanics. It offers an affordable price range and a wide number of features including:
Fast Key Programming: The functions on the Autool Xtool X100 PAD have a faster processing speed than in past models. This lets you quickly reprogram new keys. You can also perform adapter features, like reading PIN codes, chip programming, and initializing the ECU.
Remote Key Programming: This tool offers remote programming for car keys, so you don't actually need the key to program it. This is especially useful for professional mechanics and car dealerships.
Includes Diagnostic Capabilities: All OBD2 diagnostic functions are supported by the Autool Xtool X100. This allows you to read and clear any trouble codes illuminating your check engine light. In addition, you can look at freeze frame and live data, and view helpful emissions test data.
Reset Functions: The X100 PAD has an array of special functions that let you perform repairs beyond new keys. These include resetting the oil service and timing belt service lights, along with EPB reset, battery reset, and TPMS reset. You can also calibrate the steering angle and throttle body and adjust the DPF system with this powerful tool.
Intuitive Navigation: The 7-inch touchscreen on the Xtool X100 uses an Android operating system and a 1.6 GHz quad core processor. That gives you both top notch performance and an easy to read screen. The menu layout is intuitive, too, even for less experienced mechanics.
Free Updates: For updates, you just have to go to the company website through the on-board Wi-Fi. You'll get two years of free updates included in the price.
2.Autel MaxilM IM508 Auto Key Programmer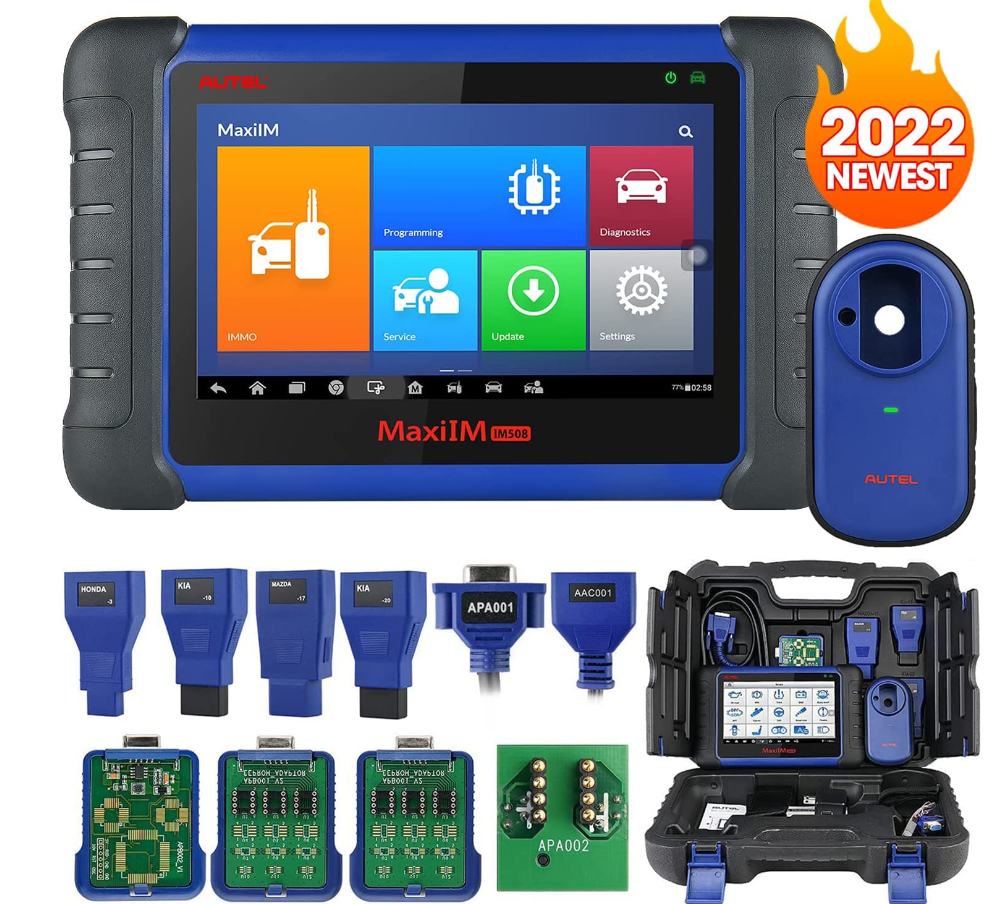 The Autel MaxilM IM508 Auto Key Programmer is one of the most advanced systems on the market currently. If you're looking for a comprehensive tool that is compatible with most car systems, this could be the tool for you. While it is on the more expensive side, it does come with a list of key features including:
Comprehensive Key Programming: Not only does this tool make keys, it can also read keys, or the PIN if all your keys are lost. Its remote learning and ECU adaptation functions are helpful, as well. When it comes to the IMMO system, you can reset, code, or refresh it. Since it also supports writing to the ECU, it's got all the functions a professional vehicle locksmith will need.
Full Diagnostics: You don't just get OBD2 diagnostic data from the MaxilM IM508. It quickly diagnoses all modules for 80+ manufacturers. That includes major systems like the ABS, SRS, and transmission. For most vehicles, you can even read and correct issues with electronic systems, like the seat controls and climate control.​​
Service Functions: The Autel IM508 goes beyond reset functions for your dash lights. It also supports common service functions like ABS bleed, SAS calibration, and DPF regeneration. And it will reset those dash lights, too, including the oil light, battery light, and other annoying dash lights.
Smart Modes: One of the reasons you can diagnose so quickly with the Autel MaxilM IM508 is its smart key programming. Its auto-VIN scan tool feature makes it much easier to access the full range of functions for your vehicle. There's also a Smart Mode that guides you through IMMO functions, along with an Expert Mode that gives experienced technicians the control they need.
The Autel MaxilM IM508 is the best key programmer for professionals. It combines OE-level diagnostics with robust key programming capabilities on a wider range of vehicles than most similar devices.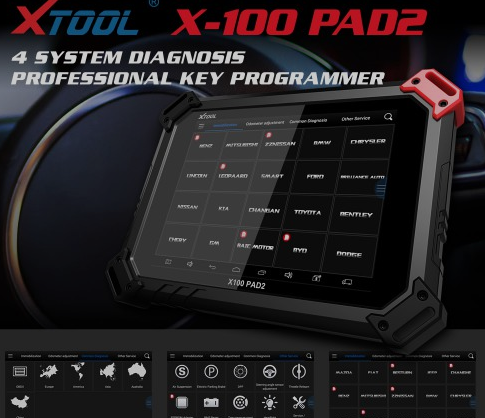 The XTool X100 Pad2 Pro is an advanced key programmer with a mid-ranged price tag. Overall, the value and special features you get make this car key programming tool worthwhile. Some of those key features include:
Full Key Programming Power: Like the X100 above, the Xtool X100 Pad2 supports reading and making new keys, remote learning, key fob cloning, and IMMO reprogramming and reset. The biggest difference here is it supports these functions for more vehicles.
Diagnostic And Service Functions: The X100 Pad2 has the same 8 service functions found on the X100 Pad. Its main improvement from a diagnostic standpoint is the inclusion of 4-system diagnosis. This means you can read codes from the ABS, SRS, and transmissions systems, not just the engine.
Wider Compatibility: The biggest difference between the X100 Pad2 and the X100 Pad above is its range of compatibility. It includes a wider array of adapters, and its IMMO and service functions are supported by more manufacturers. This includes newer models, like the C-class and E-class Mercedes left behind by other versions of the device.
Personalized Interface: Not only is the X100 Pad2 easy to use, you can adjust it to satisfy your needs. It comes with a range of interactive interfaces, and can also give you detailed reminders of how to operate it. That makes it an easy device for anyone to navigate.
An enhanced version of the Xtool X100 Pad above, the X100 Pad2 supports more special functions and vehicles, and is a better choice for professionals.
4.Autel MaxilM IM608 Key Programmer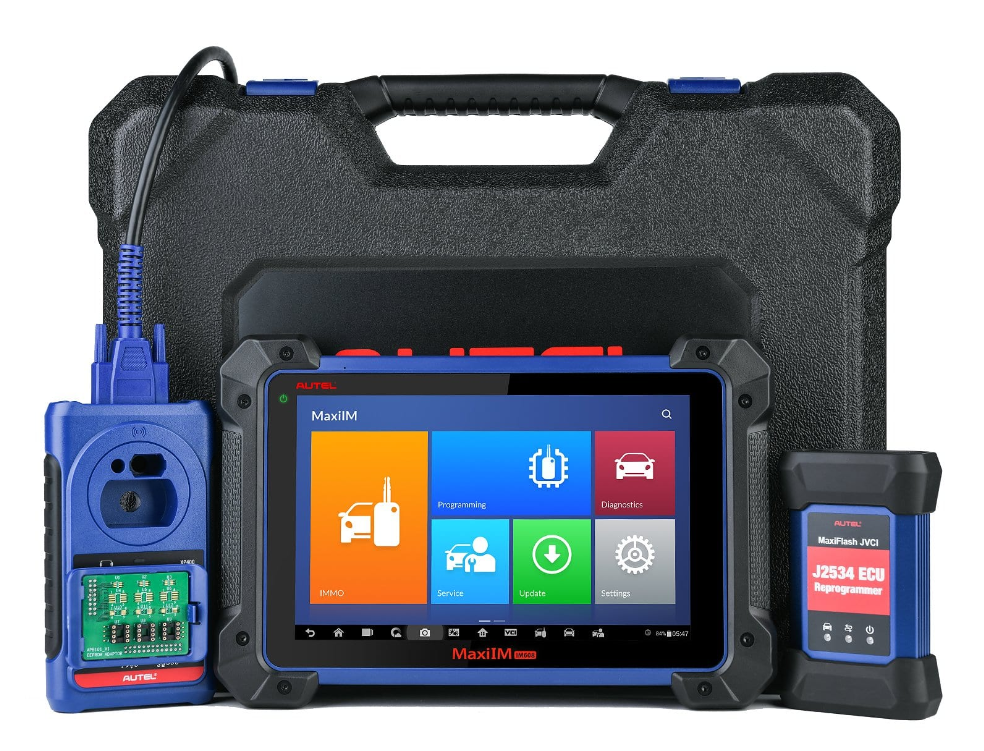 The Autel MaxiIM IM608 is a great tool to use for professionals. While it does have a higher price tag (upwards of $3,000), it does come with a wide range of features including:
Guided Key Programming: The Autel MaxilM IM608 gives users full access to key programming and IMMO functions. Not only can you read and write to the ECU, it also has a Smart Mode for guided key making. This takes the guesswork out of making keys or resetting the anti-theft protocols, making sure you get the job done quickly and effectively.
Comprehensive OEM-Level Diagnostics: Along with all 10 modes of OBD2, the IM608 can read trouble codes from most electronic systems. You can diagnose systems like the airbags or anti-lock brakes quickly and easily. In addition, auto-VIN and Auto Scan functions are an efficient way to diagnose any vehicle.
Robust Special Functions: Advanced maintenance services of the MaxilM IM608 include oil reset, battery and TPMS relearn, and maintenance of the EPB, SAS, and DPF systems. These functions are available for most vehicles, too, unlike most hand-held scanners which are limited by manufacturer.​​
Intuitive Design: The 10.1" touchscreen on the Autel IM608 is larger than you'll find on most diagnostic scanners. This gives you more room to view diagnostic data and a clearer picture of your vehicle's health. It includes both Smart and Expert modes, too, and has other helpful extras, like a built-in camera and flashlight.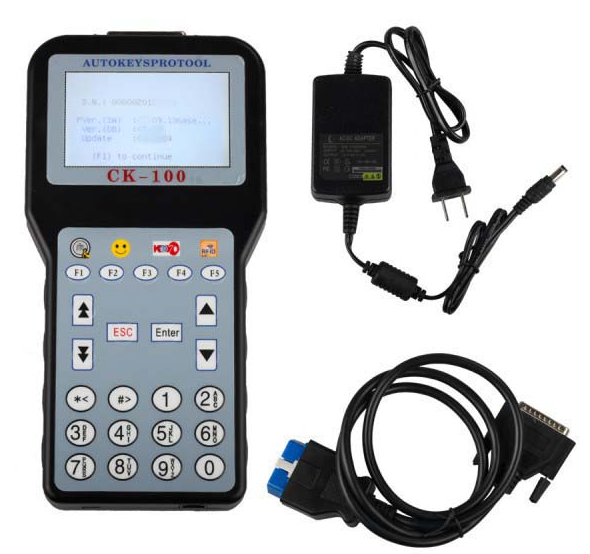 The CK-100 is a simple tool – it's only purpose is car key programming and deactivating. While it's missing some of the diagnostic features of the other models, it does have some key features including:
Efficient Key Programming: The CK-100 is a single-purpose unit, aimed exclusively at programming new keys. You can also deactivate keys you've lost and read key data from the IMMO system. Its guided process allows even non-experts to quickly create new keys for their vehicle.
Portable Design: Most diagnostic scanners with key programmers are bulky. The CK-100 is slim, lightweight, and easy to take with you anywhere. You'll also find the button navigation on the screen intuitive, regardless of your level of expertise.
Compatibility: ​The only thing to be aware of before you buy the CK-100 is that its compatibility is limited. While it supports key programming on more than 25 manufacturers, it won't read PIN data from all of them. Make sure you check that your vehicle is supported on their website before you purchase.
The CK-100 is the best car key programmer for home garages, thanks to its affordable price and guided key programming features, though it lacks the advanced functions you'll find on other models.